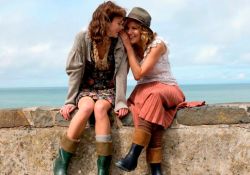 The Edge Of Love Opens the EIFF
Now in its 62nd year of screenings, the EIFF is the longest continuously running film festival in the world. It began in 1947 as a champion of documentary films and has expanded to include the full gamut of features, documentaries and short films. Hannah McGill is marking her second year as artistic director with an exciting new strand Under The Radar - a selection of "raw, risk-taking work from the cutting edge of new movie-making", inspired by EIFF 2007 visitor John Waters (Pink Flamingos, This Filthy World).
The programme was announced on May 9 and includes a pair of retrospectives featuring Jeanne Moreau and Shirley Clarke, plus UK premieres of Wall·E, Donkey Punch and Standard Operating Procedure. The festival opens with John Maybury's latest film The Edge Of Love, which stars Sienna Miller and Keira Knightley, and closes with the MySpace-written Faintheart.
Eye For Film's exclusive on-site EIFF photography is provided by Max Blinkhorn of Get Shot Photography and Stuart Crawford.
View Films by Strand:
View previous years coverage of the Edinburgh International Film Festival festival:
EIFF Latest Reviews
Edinburgh International Film Festival Features
Edinburgh International Film Festival News