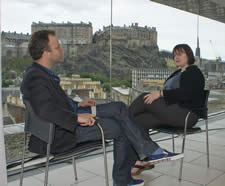 Tom McCarthy talks to Amber Wilkinson Photos: Max Blinkhorn
When jobbing actor Tom McCarthy made The Station Agent in 20 days on a shoestring budget back in 2003, it became a hit at Sundance, winning scriptwriting and audience awards before making an impression on a wider audience at the box office. Despite its short shooting time, it had been more than three years in the making, which perhaps goes someway to explaining the five-year gap between that and his follow up-film The Visitor.
But, why does he think it took so long?
"What do you mean so long? Who's making films faster than me?" he says, before adding with a laugh, "Everybody."
He adds: "It's not true. Kimberly Peirce [who went virtually 10 years between Boys Don't Cry and Stop-Loss] didn't. The problem is, being a filmmaker wasn't in my grand scheme early on in life and the same way I deliberately stumbled into acting, I sort of deliberately stumbled into writing and filmmaking.
"When I made The Station Agent and it kind of hit, it changed my life in a lot of ways. Not in terms of I was suddenly a millionaire, because I wasn't but I had the professional freedom to pursue a lot of different avenues, so I did. I continued acting, I went writing with some other people and it just took me a while to put this story together, but I wasn't in a great rush.
"I was learning a lot and processing what I'd been through and processing what I wanted to do. I really wanted to put my right foot forward on my second film and really find something that felt like picking up where I left off a little bit but also expanding upon that."
It's certainly true that The Visitor touches on some of the themes explored in The Station Agent. Sitting at the core of both movies is a lonely man, who through chance encounters with strangers finds his life of solitude changed in irrevocable ways. In The Visitor, Richard Jenkins - best known for his role as the ghostly dad in Six Feet Under - takes the central role, as buttoned-up college professor Walter Vale, who, since the death of his wife, has found his life stuck in a rut. Teaching the same lessons he has for years and putting his name to papers he has barely looked at, he has an inner need to change.
"I was interested in that character," says McCarthy. "I was interested in a guy who was sixtysomething and trying to rediscover his life, trying to find something new - he is taking piano lessons, you don't do something like that if you're not still curious and somewhat involved in life - failing miserably and not finding a way to mix it up, not finding a way to get over that hurdle. And that I was interested in."
But, the catalyst for Walter's escape from his old life doesn't come from the piano lessons he is putting himself through to little avail, but rather from an immigrant couple who have been conned into subletting his New York bolthole apartment - unbeknownst to him. When fate takes him to the city, he finds the pair - Syrian Tarek and his Senegalese girlfriend Zainab - and, in an act that shocks him as much as them, asks them to stay.
The couple's presence becomes a surprise present to Walter, and the role was also a real opportunity for Jenkins.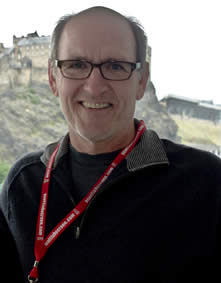 Richard Jenkins views his role in The Visitor as a gift
"I'm 61. It's just like a gift," he says. "I never thought it would happen like this."
If the role was unexpected, so is the direction the film takes. With Tarek arrested for being an illegal immigrant, Walter finds himself fighting the system, with the help of Tarek's distraught mother, played by Hiam Abbass. She says she was drawn to the character of Mouna - and the opportunity to help develop her.
"Of course, the character is beautifully written," says Abbass, "but it's really the connection I have with Tom because Tom had been thinking of working with me before, because he had seen me before in movies.
"It was nice, you know, having somebody calling you and having a drink and talking about life and things and the connection between people before I even knew why I was meeting him. While we were meeting, he had a lot of questions about my background, like a woman from a Muslim culture doing different things.
"Later I understood why he was asking all these questions, because he really wanted the character to be authentic and believable. He's somebody who really doesn't have any prejudgments about people and, specifically, he didn't want that to happen for any of his characters, so he wanted the character to be defended by the actress that was going to have the role."
The plot of The Visitor takes unexpected directions but it is the characterisation that is key to its success and McCarthy takes time to flesh out each of the roles, showing the broad spectrum of human experience, particularly taking time to find nuance in each of the Muslim characters - Tarek, Mouna and Zainab, who, like people in real life, all have their own foibles, prejudices and desires.
Abbass says: "We live with questions of immigration and especially after 9/11 and all the terrorist attacks that we're having. People are wondering about this different culture and how did people get to that stage of hatred. But we tend, as well, to mix so many things in the Western world, you know, about 'these people, over there', because we don't know them.
"I think this movie really helps people to understand that a Muslim from wherever is not the same as someone who takes a bomb or explosives somewhere."
Talking about the carefully drawn characters, McCarthy adds: "It was important for me to get that right. Both in a fair way, a subtle way but also acknowledging the complexity. To do that I really had to learn a lot.
"Once I'd written the first draft, it was kind of like starting off in the same vein as The Station Agent in some very specific ways. But then the events and reality of the time we're in take the film in a very different direction and that was my challenge with this film structurally. How to marry a couple of storylines - the political tension angle and also this human drama that was unfolding. There were some other challenges - bringing Hiam's character in so late in the movie, introducing her, making the audience care about her, making her a surprise but also so it makes sense. to see if you could surprise the audience a little bit."
McCarthy researched the system of detention that operates to hold and, ultimately, deport illegal immigrants. "When I started reading about dentention centres I thought I'd like to check one out. I didn't know I was going to be writing about it then. And it was a Riverside Church in New York called the Sojourners, it's an organisation of social outreach. I went up and took a day, you do an introduction class with them. Then you basically go to these facilities and visit. It's like a pen pal but visiting and listening a little bit.
"It was intense and draining and there was something incredibly powerful in it, just the connection I was making with a lot of those guys."
Jenkins adds: "We went to a detention centre and it was grim. I talked to a detainee. I listened. I don't think he had talked to anybody in a long time. It was difficult. I felt weird because I was there doing research for a movie and it's this guy's life. Sometimes no one knows you're there. It's sad."
But McCarthy insists that being a visitor himself was only a small part of the process of researching for the film.
"A lot of that stuff was not only visiting detention centres, it was hands on stuff." he says. "Interviewing people, reading, following, having people reading what I was writing. The Arab research was the best kind of research, it was spending time in the Arab community. In the academic Arab community, in the artistic Arab community, wherever I could, wherever I'd be welcome.
"Just hanging out and making friends and listening to how they joked between themselves. What was an inside joke, what was an outside joke, what they thought wasn't funny, what they thought was funny or what was proper. In the same kind of way as if you have friends who are gay or friends who are black or friends who are anything that are just different from you - friends that are women, friends that are older people. You know what is the jargon you can get away with."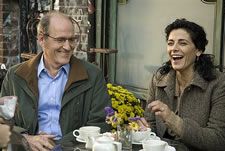 Richard Jenkins and Hiam Abbass as Walter and Mouna in the film
And despite the film making a clear statement about the political situation in the US as regards immigration and detention, it is first and foremost a drama about human connections and McCarthy insists it all began with the characters, not the politics.
"It was definitely the characters. I started with them and it exams the issue as a very human issue, not as a political agenda issue. It examines it as something that happens to people every day and is a part of their reality. I couldn't ignore it. And I wouldn't want to, it was too compelling once I started to understand it a little bit.
"I think the gamble with this movie was, would an American audience want to have this... I mean there's a lot of joy in this movie and a lot of love but I think there's an intensity to it and how would they respond? And I think the answer is we like movies like this. We like movies that take us on a journey and that move us."
So with the new film already generating rave critical reviews and good US box office, how long does he think we'll have to wait for the next one? "Three years," he says. "I'm going to shrink it by a year every time until I'm doing one every six months. Tell [Michael] Winterbottom to watch his ass, I'm coming strong! That guy'll make seven films by the time I make my next film."
If his output continues to be such finely nuanced films with such emotional heart, we can only hope he's a man of his word. Roll on 2011.
Share this with others on...