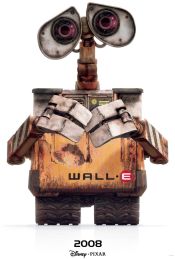 In a small corner of a blue-green planet (if you ignore the piles of rubbish) the director of WALL·E, Andrew Stanton, voice of the starship Axiom, Sigourney Weaver, sound designer Ben Burtt and producer Jim Morris came together to talk about their film about a lonely little robot with a Hello Dolly habit who falls for a sleek female bot called EVE. The event was hosted by John Miller.
Q: Jim, can we discuss the look of the film which is clearly crucial for letting the whole audience - from the tiniest dot to the senile person in the back row - enter into the world of WALL·E and convince them the film is set in a futuristic setting.
Jim Morris: One of the things we were trying to do with the film was have a 'filmed' look instead of a 'recorded' look like a lot of computer graphics work has, one of Andrew's reasons for wanting to do that were to give the film a heightened sense of reality and believability so that the audience felt they were watching a real movie and felt there was a cameraman in some place that was shooting this. Not to make it look photo realistic per se but to go in that direction and add to the overall believability of it.
Q: Take us through the germ of the idea to actually having the eureka moment, when you knew you'd hit the jackpot and made a film regarded as a masterpiece.
Andrew Stanton:It was this one lunch in 1994 we were in the middle of making Toy Story we said what if mankind left earth and somebody forgot to turn the last robot off? The idea of something doing the same thing forever to me was like the ultimate definition in futility and I just thought it was the saddest character I have ever heard of. And we immediately thought – you know what? It should speak in the manner it was built, much like R2D2, wouldn't it be cool to see this movie, and for us as film goers wouldn't that be great, but nobody would ever give us money to do something like that.
We hadn't even finished Toy Story, we hadn't even proven that we could make a movie, so that's where it lived and died - and it took for us to make five or six more movies for me to get more confident as a filmmaker and for technology to improve. And so seven years later in middle of Finding Nemo, I'd find my brain drifting to this little lonely robot, wondering who he is, what his story should be and be about. By then I knew a lot more and I realised it was the loneliness that appealed to me. And the opposite of loneliness is love and so it should be a love story. Then the idea combined with the sci-fi genre and I was hooked. I found myself even at my busiest schedules, hiding myself in my office starting to write and that's always a good sign. By then we had the confidence the audience trusted Pixar and that we could go a little bit more out on a limb and people might follow us there.
Q: Ben, legend has it that you use everything in your life eventually as part of the sounds you create for the screen – even when your wife was in childbirth. Would you perhaps share formally this intimate moment with the world's press?
Ben Burtt: I've always found when you are trying to create illusions with sound, especially in sci-fi or fantasy, that pulling sounds from the world around us is a great way to help cement that illusion because you can go out and record an elevator in George Lucas's house or something and it will have that motor sound, like an elevator, but you might associate it with something else, but if you use it in a movie people will believe it is a force field or something else - maybe a space ship door opening.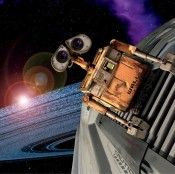 A scene from the film
You want specifically the wife story? Well that was on Invasion Of The Body Snatchers. We went to listen to a sonogram of my daughter, Alice, who is now grown up and has her own child, and there was this great throbbing sound and at the time I was looking for some sounds of alien pods germinating and it sounded exactly like that – and why not? It did work, cos it was a heartbeat from the womb and the film was about these alien characters coming alive and it was a connection emotionally as we were all in the room at the time. So it is about forging these connections between familiar sound and illusionary sound that is the basis for the success of a lot of the sounds that are put in these movies.
Q: Sigourney, you were quite late to join this production after Andrew plucked up the courage to ask if you would be involved as the voice of the ship's computer, but I believe that you are such a fan of Pixar that you almost did it for no money?
Sigourney Weaver: Yes, better late than never, I was absolutely delighted I was a stalwart fan, very enthusiastic of Pixar (and I remember the sound by the way, of that horrible pod, flashing back) and I was delighted even when I found out why I was cast – it was not for my talent but because I was in Alien and it's funny because I was sent a little film of WALL·E that was so endearing and the script and the ship's computer has a limited numbers of lines. It was a wonderful world to enter even as a computer and I thoroughly enjoyed it and they also let you play around and I told Andrew I wanted to have an arc as my character and levels and centre and he was very indulgent and we really had a good time.
I think it's a perfect movie actually. To me, a movie that succeeds at its best is a movie that is about something much more than just about the characters in it, which this certainly is, from the first second. And what I admire so much is that it has this totally endearing, captivating story, adventure and romance but within such a striking context and to not show earth as it might be if we don't take care of it and not pull punches, that's how the movie starts. I have so much admiration for the way they've taken this on and how they have gone for it and that's why it is such a pleasure to talk about and there's nothing negative you can say about this picture – it's easy to be here.
Q: You spend all these years making the film and then put it out there - are you interested, is it fascinating, to see audience and critics' interpretation put on the film, be it the obesity crisis or environmental issues?
AS: Well, I knew that all of those were hot button issues. I firmly believe that if you as a storyteller truly understand your premise and come to use all of the elements you're going to use in the story honestly, for a singular purpose, then they will all fit into your story regardless of how political they might be. I'm the least political guy and the last thing I want is to do is be preached to.
They [the issues] were all for the larger issue of the love story, which is what is the purpose of living. When you say something like that it incorporates everything, so I am not going to let fear let me take something out of the picture just because it happens to be matching hot button issues, I am going to do what is right for the movie and so I stuck to my guns and kept all these elements in.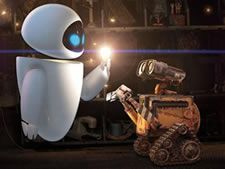 EVE and WALL·E
What I'll stand behind is that I picked everything in order to reinforce the premise I had, that irrational love defeats life's programme - that basically it takes a random act of kindness or love to get you out of your habits or routines.
Q: So it wasn't an elaborate way to let us all into the secret of your high school fascination for Hello Dolly.
AS: No, but it does reveal my background in high school theatre. You mean Where the song came from? I'm not saying I'm a Hello Dolly fan, I'm just saying WALL·E has bad taste in musicals and I can't do anything about that.
SW: Can I ask how you came up with WALL·E's voice? It's so sweet and there's something like a baby calf about it, it goes straight to your heart, like you are its mother or something.
BB: I'm guided by Andrew, being the director, and I would audition things and sets of sounds that were originally motors and beeps and tones. It's something I've never told him in fact, however, and it related to musical theatre. When he first showed me and he had maybe ten minutes or so of the story boards cut together and it had music and sounds and it was a way of enticing me to understand. It was that opening song – that Hello Dolly vocal that appealed to me and connected me to a WALL·E. We had lots of experiments trying WALL·E as motor sounds only and some that were more beeps and whistles, more in the R2 D2 realm and bits from all of those experiments the more expressive vocals that were from that singing voice. There was something very charming and appealing about that song. I couldn't quite pin it down and I couldn't forget it either. Anytime you are asked to come on board to a project like this you try to pick up from the visuals, from the script, Andrew's description of what he wants. You just gather those elements together and start weaving it. And that was one of them.
Q: Andrew how much pressure was there from the studio to antropomorpasise Walle and EVE as we know they are a guy and girl but basically, he is a box and she is a sphere. Were there men in suits at Disney asking you to put eyelashes on EVE and a Buzz Lightyear outfit for him?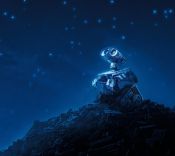 WALL·E has sounds but no 'speech'
AS:
We don't have any men in suits in house at Pixar, and fortunately when I came up with this idea it was during the near divorce years between Pixar and Disney and so there was nobody checking in and I was pretty much a free-range chicken. And I could go with what I wanted and a lot of the design decisions were made in the year that you are most under the radar. Right after you finish as a director they are pretty much on to the next film rather than worrying about what is going to happen next and they expect you to go take a vacation and slowly ponder what you are going to do next and I decided to jump right in to developing this idea so there was nobody, so I got almost the entire design up – the whole of the first act and the characters all in private pure artistic decisions from me about the look of the film.
Q: How does your level of satisfaction with WALL·E compare to some of your other famous creations.
BB: When people come and say it's a masterpiece, that's when you become distorted about it and hearing those reactions. I'm very proud of them all. I see it as a great opportunity in terms of people who don't get the assignments to create walls of sound and trial out things and get the scrutiny and supprt of the team over a long period of time. Most sound is done very quickly towards the end of the schedule and you always wish you had more - "can't we start this a year ago?".
I was working on this film for three years and the work was embedded into the film right from the beginning – sometimes we would do some sounds and do a test to try the sounds out – so of course, I am very proud of that. What you do as a sound designer is something like making music – you are creating sounds - and in a film like this what part can those sounds play emotionally to support the credibility so it's real, and that's important. But also it's great when the director wants to ask you for a motor that sounds like a kid or more pathos in that server – those are not the questions you usually get when you are rushing to get sound effects put in a movie.
Share this with others on...