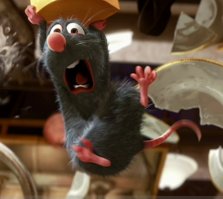 Things get hot in the kitchen for Remy in Brad Bird's latest Ratatouille
Now in its 61st year of screenings, the EIFF is the longest continuously running film festival in the world. It began in 1947 as a champion of documentary films and has expanded to include the full gamut of features, documentaries and short films.
Hannah McGill is marking her inaugural year as artistic director with an in-depth look at Cinema And The Written Word. The programme was announced on July 11 and includes an Anita Loos Retrospective, plus UK premieres of Ratatouille, Paranoid Park and Death Proof. The festival opens with David Mackenzie's latest film Hallam Foe, which was shot in the city, and closes with Julie Delpy's 2 Days In Paris.
Ian Curtis biopic Control - directed by Anton Corbijn - took home the Michael Powell award for Best New British Feature. It's star, Sam Riley, also won the PPG Award for Best Performance in a British Feature Film. Paul Taylor's heartwarming documentary about a South African orphanage, We Are Together, won the Audience Award, while the Best Documentary award went to Jennifer Venditti's Billy The Kid - a film about a boy with learning difficulties looking for love. The Skillset New Director's Award was won by Lucia Puenzo for her coming-of-age drama XXY.
Short films scooping awards were: Peter Baynton's Over The Hill (McLaren Animation Award), Simon Ellis' Soft (European Film Academy Short Film Prix UIP), Jamie Griffiths' The One And Only Herb McGwyer Plays Wallis Island (Best British Short Film), Yasmin Fedda's Breadmakers (Short Scottish Documentary Award).
View Films by Strand:
View previous years coverage of the Edinburgh International Film Festival festival:
EIFF Latest Reviews
Edinburgh International Film Festival Features
Edinburgh International Film Festival News