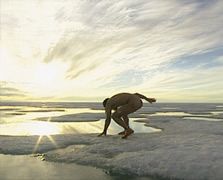 Atanarjuat, The Fast Runner
Notching up its 55th year in 2001, star appearances at the festival included Emma Thompson, Robbie Coltrane and Brian Cox. Director Jean-Pierre Jeunet - whose film Amelie, was the opening night film - was also in attendance. Jeunet's fantastical and offbeat French romance starring Audrey Tautou also went on to win the Audience Award.
Director Kenny Glennan, won the Michael Powell Award For Best New British Feature for his tale about a mystery virus breaking out in a Glasgow tower block, Gas Attack. The Guardian New Directors Award was shared by Michael Cuesta for Brian Cox starrer L.I.E. and Zacharias Kunuk, for his helmsmenship on the world's first-ever Inuit feature film Atanarjuat, The Fast Runner. Short films achieving recognition, included Suzie Templeton's Dog, which snagged the McLaren Award For New British Animation, Crow Stone by Alicia Duffy and About A Girl by Brian Percival, meanwhile shared the Best Short Film Award glory.
View previous years coverage of the Edinburgh International Film Festival festival:
EIFF Latest Reviews
Edinburgh International Film Festival Features