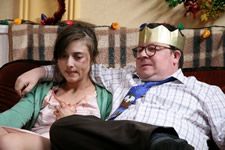 Perry Benson with Olga Fedori in Mum & Dad
Perry Benson has been acting since the mid-1970s but despite working constantly since in range of TV roles and in films, including Scum, Sid & Nancy and This Is England, he remains the sort of actor people recognise instantly on sight yet frequently can't remember the name of. In person, he is a self-confessed "bit of a chunky monkey", but it is his engaging attitude and knack for comic timing even offscreen which make it easy to see why he has marked out his career with a string of comedy roles, featuring in everything from Oh, Doctor Beeching! and Young Rang M'Lord to Blackadder.
The latest two films to grace his CV indicate just how versatile he is, with Shane Meadow's whimsical coming of age drama Somers Town at the opposite end of the spectrum to Steven Sheil's suburban horror frenzy Mum And Dad.
"That's partly the reason I did Mum And Dad," says Perry, "because it's a huge departure from the roles that I get offered normally. I auditioned and was put up against quite a lot of other people. Steven, the director, in his infinite wisdom, instead of going for someone who would be a typical large, brutish, murderous looking person, went for me instead. I normally get cast as downtrodden people."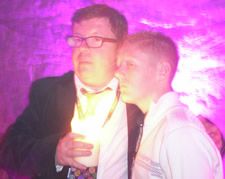 Perry Benson and Somers Town co-star Thomas Turgoose at EIFF 2008
There's certainly nothing downtrodden about Perry in the flesh. He's chatty and upbeat when I catch up with him the day after arranging the interview while at a party to celebrate Somers Town. "Your liver like a string vest?" he asks with a smile as we settle down to have an alcohol-free chat before he goes to a public screening of Mum And Dad that evening.
Perry plays Dad in Sheil's film, which the director himself brands "brutal and perverse", and the actor admits that he did have some reservations about the movie initially.
"When I first read the script, I thought this is too far out for me, really," he says. "Then when I read it again, I thought, 'Well, maybe not'. Then by the third week of filming I was saying, 'More blood, where's the blood? No, that knife is not quite sharp enough for this scene.' So I really got into it as much as one can 'methodise' playing a serial killer without actually killing anyone."
Starring alongside Dido Miles, who plays Mum, the film tells the story of a Polish airport worker (Olga Fedori) invited to her colleagues' home after missing the last bus, only to find that sadism is thriving in suburbia.
"It's really quite funny, the juxtaposition between the normal family values and this extreme, psychopathic punishment to put people in line," says Perry. "I'm not quite sure what is running through Steven Sheil's head… but whatever it is needs catching."
Although Somers Town also deals with a slightly unusual family set up - one of the central characters Marek (Piotr Jagiello) is the teenage Polish son of an immigrant worker with a strong taste for alcohol - the focus is on friends, not fiends.
Originally planned as a nine or ten-minute concept (see our feature with Meadows and producer Barnaby Spurrier for details), the story of a young lad seeking his fortune in London (Thomas Turgoose) and striking up an unusual bond with another teen (Jagiello), quickly grew into something larger.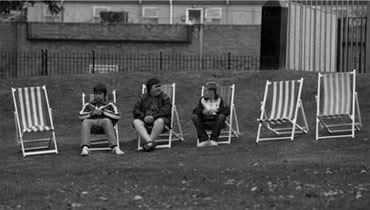 Perry as Graham, with Thomas and Piotr
Perry, who puts in a scene-stealing performance a wheeler-dealer who befriends the boys in the film, says: "We all expected just to make a short film that was going to be shown at film festivals or exploited on TV. For it to then turn into a feature – no one was more surprised than I was.
"It came really organically and I think the film benefits from it."
Meadows is known for this improvisational approach to films, which marks another big difference between shooting Somers Town and Mum & Dad for Perry.
"Somers Town is an improvised film and Steven's isn't, it's completely scripted, so it is dead-letter perfect, stick to the script.
"Shane doesn't write a script, so you don't really know what's going on until you get there on the day and he says, 'Oh, I want it to got this way.' Even if he does write something down you might as well just throw it away because it changes so much.
"I found that with This Is England. I read the whole breakdown of it and it more or less stays on course but he has these ideas and it goes all over the place. That's why, when people are funding his stuff they have to have a bit of a leap of faith."
He says acting in that sort of flexible environment "keeps you on your toes" and adds: "I would say, if there are people who hadn't done any improvisational stuff before, there's a danger of trying to do too much and fill that space, whereas really 90 per cent of improvisation is listening to what someone else is doing and allowing each other space to develop."
Despite this, however, it seems the young cast of Thomas Turgoose and Jagiello had no problems with this approach.
"They're great because they've got great imagination – it's funny," says Perry.
He also got to add a touch of his own to his Somers Town character.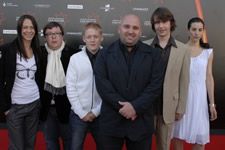 Kate Dickie, Perry, Thomas, Shane, Piotr and Elisa Lasowski at the Edinburgh Somers Town premiere Picture courtesy: EIFF/Peter Ross
"Some of my family were originally from Somers Town but Shane didn't know that. It was just coincidental that I know the area really well because my cousins live there.
"I got to choose the name of the character, Graham Cutler, and that's my uncle's name, that was the family name of all the branch of my family that lived in Somers Town."
When I catch up with him at the Edinburgh Film Festival, Perry had been globetrotting with Meadows', which had already screened at Berlin and Tribeca, but Mum And Dad was a totally different ballgame.
"Mum And Dad has only had one screening – for cast and crew," he says. "I took an old friend of mine, who produced Priscilla Queen Of The Desert, Michael Hamlyn, and he could only last about 20 minutes in. So that made me laugh."
But when I ask him whether he is expecting walkouts from the Edinburgh premiere he says: "I would imagine that if people are there at midnight to see a horror film then they want to be there rather than people who are wandering in off the street, randomly. I think the poster is self-explanatory.
"It think if you're into the horror genre, it works. And even though it was made for £100,000, the production values don't suffer at all. It looks great."
As for what is next, it seems he'll be turning his hand again to comedy drama.
"I'm doing something at the moment, with Jimmy Nail. A new series for the BBC that Dick Clement and Ian La Frenais have scripted, called Parents Of The Band. I'm doing a couple of episodes of that. I'm playing this ageing rocker who owns a guitar shop and his old friend – I'm supposed to have been in a band years ago."
He takes out his phone and shows me a picture of the wild 'rock star' wig he wears for the part. I say it makes a change from prancing about in nothing but a pair of pants - he has memorable underwear scenes in both Somers Town and Mum & Dad.
"In This Is England I show my arse as well," he admits, cheerfully. "In Love Honour And Obey I did, too. And someone suggested that instead of having a head and shoulders [in casting directory] Spotlight photo I should just have my arse in there instead and everyone would just know who that was. Like Roger Moore doesn't have any photo, he just has his name and I should just have my arse.
"There's no dignity in being an actor, really, that goes out of the window. The thing is, I'm a bit of a chunky monkey as well – I'm no Brad Pitt when I get my kit off, but people don't seem to mind too much, it's more of a laugh than anything."
Somers Town is on general release across the UK now. For more information visit the official site or Shane Meadows' homepage.
Mum & Dad is screening at FrightFest this weekend but has yet to gain a UK distributor, but you can track what director Steven Sheil is up to courtesy of his blog
Share this with others on...