Taking their first look at the programme
The freshly revamped Edinburgh International Film Festival today revealed its plans for 2008. Eye For Film correspondents Max and Scott were there to hear them. Photos are by Max Blinkhorn.
Max writes:-
Edinburgh's yearly film bash, the EIFF, was launched today on a sunny Scots morn and the message was "It's a cracker". The assembled media and film world were treated to a showreel of exciting clips from films to be featured in the two week long event. The three big reelers in the Fest, Hannah McGill, Ken Hay and Ginnie Atkinson, enthused about the context and took great pains to remind us of the Festival's earlier dates (18th to 29th June).
McGill, characteristically shy but stylish in a little brown dress, modestly told us of the goodies to come. She thanked Cineworld and the Filmhouse for their ongoing contributions to the cause of the EIFF and, of course, of Scottish cinema in general.
The showreel included a tantalising glimpse of Pixar's new animated character Wall-E, which made everyone sit up and look, while Pierce Brosnan is hunky as always in Married Life - or should that be death? It's a marvellously atmospheric piece and the girls are stunningly gorgeous in this Forties-style sexy murder thriller.
My tip for an up-to-the-minute 21st Century po-mo adventure is Donkey Punch, to which the boys will say "yes" and girls will say "typical!" - twas ever thus with some films.
Guests include Ray Harryhausen of Jason And The Argonauts and When Worlds Collide fame, and Roger Deakins teams up with Seamus McGarvey for the interview series, this year titled In Person.
Man On Wire features the two principal victims of 9/11, the Twin Towers, and how a trapeze artists attempted walk between the two without permission. How times have changed.
Leafing through the materials provided in my Festibag, it's clear there is a lot of superb cinema coming our way and my mouth is watering... yuck, all over my keyboard!
Scott writes:-
The 62nd Edinburgh International Film Festival opened with a bang today - 142 feature films, complete with 15 World Premieres and a brand new strand, Under The Radar, for raw, new and inventive filmmakers. This was inspired by EIFF 2007 visitor John Waters (Pink Flamingos, This Filthy World) - no stranger to pushing the envelope in every way possible.
Cinematographers are celebrated in EIFF's In Person events - in which the public are invited to lengthy interviews with great filmmakers - with 2008 Academy Award nominees Seamus McGarvey and Roger Deakins (the 2008 Oscar winner for No Country For Old Men) present for an interview. Additional excellent In Person choices include Errol Morris (The Fog Of War, The Thin Blue Line, Gates Of Heaven) who visits EIFF with Standard Operating Procedure, his latest documentary on the Abu Ghraib torture photographs. Scots heavyweight actor Brian Cox (L.I.E. - EIFF 2001, the Bourne series) makes an appearance for the annual BAFTA Interview, and stars in Red. Special effects legend Ray Harryhausen turns up for a 90-minute chat along with a special screening of his most famous work in the classic Jason And The Argonauts complete with a groundbreaking stop-motion skeleton battle. Also, fresh from his Tribeca triumph, comes gritty British filmmaker Shane Meadows (This Is England, TwentyFourSeven) presents his latest acclaimed 16mm black and white, Somers Town.
As always the EIFF lineup provides the great selections:
There's a huge selection of short films from all over the world - handpicked into their own 75 minute strands.
The Director's Showcase - a strand for established global filmmakers that often don't get much play outside of film festivals, and rarely at all in multiplexes.
Document - the EIFF started off as a documentary film festival in 1947, and this year's documentary strand is particularly strong. Three Miles North of Molkom takes spritual fulfillment of the weirdest kind as its subject and Dreams With Sharp Teeth focuses on fiercely intelligent writer Harlan Ellison.
Rosebud - like the Citizen Kane McGuffin, these films come from directorial first or second-timers.
Night Moves is for those of us who enjoy our late nights disturbed - low budget horror films or thrillers; often just plain nasty stuff!
Mirrorball - Music videos, adverts and promotions by directors who often move on to feature filmmaking. Not my cup of tea, but it's often entertaining and inventive.
A pair of retrospectives - French actress Jeanne Moreau, "an intelligent, offbeat seductress" and Shirley Clarke, "an underground pioneer". I tend to enjoy these parts of the EIFF programme most of all, primarily because they are always interesting and hand-picked rarities, full of terrific films I have never seen.
Black Box - Innovative and daring experiments in film form. They're usually barking mad, but compelling! Last year's Phantom Love left an indelible impression.
Gala presentations - the British selections are all up for the Michael Powell award, including the Sundance successes Man on Wire and Donkey Punch, and the aforementioned Tribeca award winner Somers Town.
Other interesting nuggets:
6pm Panels - a series of discussions on relevant topics in the industry today. From cinematography and location to the rise of the blogosphere tackling print critics at their own game. And can those nasty pirates help rather than hinder our industry?
Sir Ben Kingsley will appear in two Gala premieres - The Wackness and Transsiberian (although tellingly, the reviled War, Inc. is not part of the lineup after appearing in Tribeca!). Would a Michael Powell EIFF Jury seat be out of the question for him?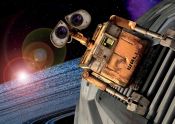 Pixar - arguably the world's finest animation studio - presents its latest as the Family Gala. Wall*E is about the last robot on Earth and how he comes to leave. Ratatouille, last year's impeccable film from this studio, reminded me of the mastery of performance art, and Wall*E combines silent film pantomime with typical Pixar technical sorcery.
As Artistic Director Hannah McGill notes, "many of these films will NOT be coming soon to a cinema or DVD store". Hopefully most of them will, but I can only speak from experience that I have found very special films at the EIFF in previous years that I have been unable to obtain on home video. Should you discover some possibly great films, knowing that what you see may not hit home video or a local projectionist's bulb again for years, if at all? Of course you should!
Eye For Film will continue providing the best online coverage of the Edinburgh International Film Festival through 2008. We hope to see you there!
Share this with others on...