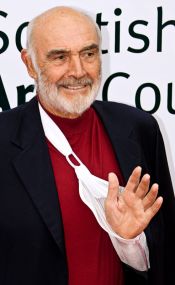 Sir Sean Connery (complete with golfing injury) welcomes everyone to the 62nd Edinburgh International Film Festival (photo by Stuart Crawford)
The 62nd Edinburgh International Film Festival launched yesterday with the international premiere of The Edge Of Love - see our feature article. Starring Keira Knightley, Sienna Miller, Matthew Rhys and Cillian Murphy, this dramatic romance focusing on the life of poet Dylan Thomas looks set to be a major hit. Stars Knightley and Miller were among the many celebrities who graced the red carpet in Edinburgh Castle as festivities began in the afternoon.
"The Film Festival's Red Carpet was specially extended," writes Eye For Film's Chris. "Sean Connery appeared (arm in sling from golfing accident). Press flew in from all over the world. Security was the tightest I have seen. Kiera wore Chanel: a black vintage jacket over white trouser suit, and with Chanel jewellery. The overall effect, I'm afraid, was sadly not flattering, especially for those who remember her in THAT green dress in Atonement. Sienna Miller was more eye-catching. She wore a black Jasmine di Milo Thirties-style Charleston outfit, with ankle-length fringe. A unisex black hat made her stand out, and pink-dangle Adler earrings added an extra touch of femininity. The fashion hit of the evening however was Edge Of Love producer (and granddaughter of Dylan's alleged lover) Rebekah Gilbertson, who looked absolutely stunning in a shimmering blue gown by Ashley Isham. Close runner-up was star and jury member Joely Richardson in gold lamé. But my own favourite was perhaps the very pretty Beth Rowley in a simple but attractive floral print. What made it was her infectious smile and bubbly personality, projecting across the sea of celebrities. Beth sings in the movie and, unlike the film stars - who sometimes seem to find the whole business a bit of strain - just seemed delighted to be here."
"It was very busy," said our photographer, Stuart. "Press had come rom all over the place. Sometimes I felt as if I was the only Scottish person there. I was wandering round all day with my equipment. At one point I was coming out of a toilet cubicle with my ladder and my camera and I thought, 'there's no way this can look good!'. Afterwards I went for a drink in the Cineworld bar to recover with some of my colleagues, while other journalists went on to the premiere of The Edge Of Love."
---
Photos by Max Blinkhorn:
---
Photos (left) by Stuart Crawford and (right) by Chris:
Share this with others on...