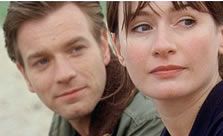 Ewan McGregor and Emily Mortimer in Young Adam
The 57th Edinburgh Festival saw a host of celebs hit the city, including American Splendor's Paul Giamatti, House Of Mirth director Terence Davies and then-rising star Samantha Morton.
Young Adam was the opening night film and at the end of the festival it walked off with the Michael Powell Award for Best New British Feature, while Richard Jobson's feature debut 16 Years Of Alcohol, received a commendation. Alison Peebles debut Afterlife won the Audience Award. The New Directors Award went to Shari Springer Burman and Robert Pulcini for American Splendor. Duane Hopkins' Love Me Or Leave Me Alone scooped Best British Short Film, while Stephen McCollum's Pullin' The Devil By The Tail won the McLaren Animation Award. Best Short Scottish Documentary went to Craig Collinson for She Toon: City Of Bingo.
View previous years coverage of the Edinburgh International Film Festival festival:
EIFF Latest Reviews
Edinburgh International Film Festival Features