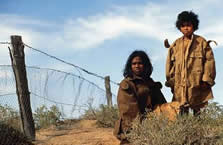 Rabbit-Proof Fence walked away with the Audience Award
The 56th edition of the Edinburgh International Film Festival kicked off with drama Morvern Callar and wrapped up with the Hollywood remake of Insomnia, starring Robin Williams and Al Pacino.
Among the celebrities who visited the city were Heather Graham, Jimi Mistry and Samantha Morton. Phillip Noyce's re-examination of the plight of Aborigines in Australia, Rabbit-Proof Fence, won the audience award, while gritty borstal-based drama Out Of Control snagged the Michael Powell Award For Best New British Feature. The Guardian New Director's Award went to Carlos Reygadas for Japon, while Marius Holst received a special mention for Dragonflies. Joachim Trier won The European Short Film Award: Prix UIP and The Kodak and Short Film Bureau Award for Best British Short Film for his film Procter, while the McLaren Animation Award for New British Animation went to An Eye For An Eye, produced and directed by Shynola with Ruth Lingford. The Saltire Society Greierson Award for Short Documentary went to Sky High, which was directed, produced and edited by Anna Jones.
View previous years coverage of the Edinburgh International Film Festival festival:
EIFF Latest Reviews
Edinburgh International Film Festival Features