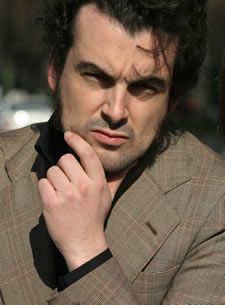 Nacho Vigalondo
Sci-fi flick Timecrimes (Los Cronocrímenes) - about a man who struggles to restore the status quo after accidentally travelling back in time - was released on Optimum Releasing DVD on May 4. We spoke exclusively to director Nacho Vigalondo about his mind-bending debut feature.
How did the idea for Timecrimes come about?
NV: Throughout my life I've read a lot of science fiction and time travel stories from authors like Philip K Dick. I really love this kind of complexity and craziness. When this story came to me, I loved it because it gave me the potential to make this crazy structure with paradoxes, but at the same time, I thought this was going to be a cheap slasher film, with a killer, a girl and a hero.
The movie has a very intricate plot. Was it a nightmare to initially write?
NV: What I liked about the project, is that it was a puzzle you are trying to solve as a writer, and then later, when you are shooting it, you are kind of making another puzzle. There are things you want to show and things you want to hide. It's a challenge, but an exciting challenge.
What were the main challenges when working on Timecrimes, which is, of course, your first feature?
NV: When you trying to make your first film, when you are younger and having spent your life dreaming of being a filmmaker, it isn't a challenge, it's kind of a paradise because you are making a film. Even if you are suffering during shooting, or you don't have enough money or time, you are making a bloody feature film! It was really tough to shoot, really complicated. Now, looking back, I can tell you that the shooting was horrible, but at that moment I was enjoying every second of it!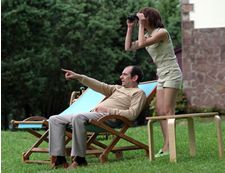 Karra Elejalde and Candela Fernández
Is it generally tough to get independent movies made in Spain?
NV: It's complicated, and close to impossible if you're trying to make science fiction. Here in Spain, we don't have a tradition of science fiction. When you're trying to find money to make films, you have to convince a lot of people to make a movie in a genre that is less than useful in Spain. It's not easy. In Spain, if you stick to genres like comedy or social drama, it's easier.
Is Spain developing a new and healthier relationship with the horror genre?
NV: I don't know. There are a lot of filmmakers, like Juan Antonio Bayona, who made The Orphanage, or the guys behind [Rec], who have made awesome films. Maybe things will change with these horror films having been a big success. Maybe it's time for Spain to make a lot of horror and science fiction, but I don't know.
Did the fact that Timecrimes was quickly snapped up for a remake flatter you or annoy you?
NV: This is my first film. I am a nerd, a geek and a film lover, so I'm amazed to be able to meet people like Tim Sexton who wrote Children Of Men and who is doing the script for the remake of Timecrimes. This situation is going to give me an opportunity to make movies in Hollywood. Maybe if I had already done 10 films and if I was this old, angry European filmmaker, maybe I would have been upset.
Apparently David Cronenberg was tipped to direct at one point?
NV:He was one of the names, and that would have been awesome. I know that so far, that isn't going to happen because he isn't available. I read a list of people they had in mind, and I felt really flattered.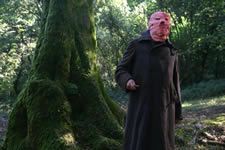 Vigalondo is thrilled Tim Sexton will write the script for the US remake
With regards to sci-fi, do you have all-time favourites, and has anything impressed you recently?
NV: Children Of Men is an incredible science fiction film. Of course, I love Primer, which came out during pre-production of Timecrimes. At first I was really horrified because I thought it was going to be the same movie. But, it's a pretty different film, a different point of view on time travel. I think it's fascinating how Primer works. I think that if you love science fiction, you can't stop at the films, you have to read a lot of books. There's a lot of authors that I love.
Do you think that Hollywood sci-fi is in a good place at the moment?
NV:I believe in cheap sci-fi. I think sci-fi is more about high concept rather than high levels of production. I love for example when David Cronenberg makes a movie like Videodrome, which takes place in the future, but you don't see spaceships and futuristic cars. I love how David Cronenberg turns Toronto into a place of the future only with ideas and not production values. I believe in that kind of science fiction rather than the space opera with a big budget.
What are you working on next?
I'm working on several projects at the same time. I don't know what's going to be next. My biggest script, the one I'm trying to sell, is called The Ramp. It's about a guy who has studied the UFO sightings from the beginning of the century and he has formed a mathematical pattern so he can predict when and where the next UFO is going to appear. So he is building a hell of a ramp so he can jump onto the UFO with a car. This is his personal quest. The movie is about the building of a ramp. It's the opposite of a space opera. Imagine if you're watching Star Wars, but instead of focusing on the fight against the evil Empire, we're focusing on the people that built the Death Star.
Finally, do you think that one day time travel will be possible and would you time travel yourself?
I don't know a lot about that stuff. I'm not a physicist. I don't think a lot about time travel, I prefer to think about teleportation. My dream is teleportation. I hate to travel. I don't have a car or a driving license. I hate to be a tourist, I love to be at home and I would love them to create fucking teleportation! That would be my dream.
Timecrimes is out to own now from Optimum Releasing, to by it from Amazon, click
here
.
Share this with others on...