TWITTER
A Cuban immigrant tries to connect with New York City in Angela Link #gsff18
A Tunisian woman struggles to get help after being raped in Beauty And The Dogs Link
Documentary Taste Of Cement considers the lives of Syrian builders in Lebanon Link
Which Way Up explores the working process of artist John McLean, who has Parkinson's disease Link #gff18
Follow us on Twitter.

NEW DVD HIGHLIGHTS
Legend Of The Mountain
Blu-Ray Review
A travelling scholar is assigned the task of translating a Buddhist scripture for a ceremony honouring dead soldiers. On his journey through the haunting mountain landscapes, he encounters temptress ghosts and Taoist priests, ancient abandoned fortresses and inns.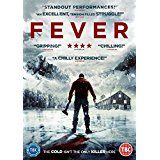 Mountain Fever
DVD Review
When a fatal flu virus devastates Europe, city boy Jack takes refuge in the Alps but he's ill-equipped to survive the harsh winter. Things only get worse when renegade Kara breaks into his house and commandeers his dwindling food supplies.