FILMS OUT THIS WEEK
If you have a burning love for cinema, you can check out Baz Luhrmann's Elvis on the big screen this week, while prisoners put on a play in The Big Hit and a man tries to rebuild his life as a pandemic causes amnesia in Apples - director Christos Nikou shared his thoughts. A young woman becomes her father's carer in Moon, 66 Questions - we spoke with director Jacqueline Lentzou - and Sufi Muslims go on a spiritual journey in Faya Dayi - see what director Jessica Beshir told us about it. There are adventures in space as Lightyear goes to infinity and beyond, while a man finds himself caught up in a strange experiment in Ultrasound - see our interview with director Rob Schroeder and team - and a girl faces a difficult coming of age in Summer In The Shade. A stripper and a religious protester are trapped together in Revealer, a student's life is turned upside down by an unplanned pregnancy in Happening, and a retired teacher hires a sex worker in Good Luck To You, Leo Grande. A couple try to evade lie detection software in Guidance, a father seeks help to die in Everything Went Fine and a young woman tries to build a porn career in Pleasure, plus there are rereleases for Rambo story First Blood and perennial fan favourite Star Trek II: The Wrath of Khan.
If you can't get to a cinema, we have plenty of suggestions for films to watch on television and streaming services in our Stay-at-Home Seven, plus we're shining a spotlight on Tribeca Film Festival winners.
TWITTER
Follow us on Twitter.

DVD/STREAMING HIGHLIGHTS
Cha Cha Real Smooth
Streaming now on Apple TV+
A directionless college graduate embarks on a relationship with a young mum and her teenage daughter while learning the boundaries of his new bar mitzvah party-starting gig.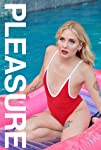 Pleasure
Streaming now on MUBI
A 20-year-old woman moves from her small town in Sweden to LA for a shot at a career in the adult film industry.