FILMS OUT THIS WEEK
A quiet man's past returns to haunt him this week in Welsh indie comedy The Toll, while a boy chooses the wrong car in which to go on his First Date and the Chinese Dream is explored in documentary Ascension. A middle-aged botanist finds herself on a journey of self-discovery in Memoria, a new Ghostface wreaks havoc in Scream, and there's dreamlike horror from Boy Harsher in The Runner. A young woman wrestles with supernatural forces in Neil Bomkamp's Demonic, an ex-con makes a bold bid to win public sympathy through a lie in A Hero, and a young Jewish man discovers his sexuality in Eighties New York in Minyan. An encounter with a vampire liberates a middle aged woman in Jakob's Wife and there's a re-release for François Truffaut classic The 400 Blows. Cinema becomes the subject in documentary Woodlands Dark And Days Bewitched: A History Of Folk Horror - see our interview with director Kier-La Janisse - while another documentary explores the life of groundbreaking choreographer Alvin Ailey.
If you can't get to the cinema, there's plenty of suggestions for films to watch on television and streaming services from the comfort of your armchair in our Stay-at-Home Seven, plus we're taking a walk on the wild side with wolves for this week's Streaming Spotlight. Although festivals across the world are taking a festive break at the moment, we've recently been covering DOC NYC, Tallinn Black Nights and the French Film Festival UK.
TWITTER
Follow us on Twitter.

DVD/STREAMING HIGHLIGHTS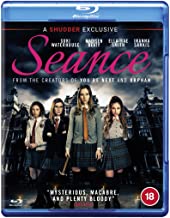 Seance
Blu-Ray Review
A group of teenagers at an elite boarding school become convinced that a ghost is coming for them.
Woodlands Dark And Days Bewitched: A History Of Folk Horror
Streaming now on Shudder
A documentary about the history of folk horror cinema from the 1960s to today.