FILMS OUT THIS WEEK
When Superman is captured this week, it's down to the DC League Of Super-Pets to save him, while two outcasts seek refuge in a forest in The Deer King and volcanology meets romance in Fire Of Love. Four kayakers are menaced by sharks in The Reef: Stalked, a troubled family implodes in What Josiah Saw, and there are two very different road trips in Joyride and Hit The Road. An impotent man tries to assert himself through fighting in Vengeance Is Mine, All Others Pay Cash, and there's a rerelease for classic Paris, Texas.
If you can't get to a cinema, we have plenty of suggestions for films to watch on television and streaming services in our Stay-at-Home Seven, plus you can read a review of Kier-La Janisse's House Of Psychotic Women (Expanded Edition) in our Eye For Books column, and as we look forward to this year's edition of Edinburgh International Film Festival we're shining a spotlight on past winners and selecting some highlights to catch as the festival celebrates its 75th year.
TWITTER
Follow us on Twitter.

DVD/STREAMING HIGHLIGHTS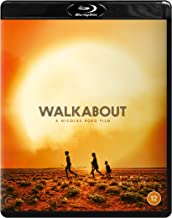 Walkabout
Blu-Ray Review
Two white Australian children are stranded in the Outback and survive with the help of an Aboriginal youth.
Vengeance Is Mine, All Others Pay Cash
Streaming now on Arrow
The tale of an impotent man who tries to assert his masculinity through fighting but cannot come to terms with his past.