TWITTER
Mark C Smith tells us about the challenges of stop-motion animation and making Two Balloons Link #Fantasia2018
Philippe de Broca's King Of Hearts comes out on DVD/Blu-ray today Link - we look at the extras Link
A young woman unwittingly falls for her absent father's sugar baby in Daddy Issues Link #OutfestLA
True love brings lemurs in airships together in Two Balloons Link #fantasia2018
Follow us on Twitter.

NEW DVD HIGHLIGHTS
King Of Hearts
Blu-Ray Review
Sent to the small town of Marville to disarm a bomb left behind by retreating German troops, an English soldier finds it has been taken over by the abandoned inmates of the local asylum.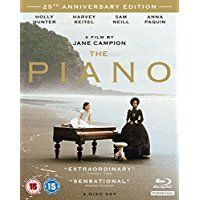 The Piano
Blu-Ray Review
A mute woman in an arranged marriage makes a dangerous bargain in an attempt to retrieve her stranded piano.