TWITTER
David Zellner and Nathan Zellner talk further about Robert Pattinson and Mia Wasikowska in Damsel Link #kviff
An impoverished aristocrat begins to find her own path in life in The Heiresses Link #edfilmfest
Bill Murray Stories investigates tales of the Ghostbusters star's everyday adventures Link #Cinepocalypse
In an authoritarian future Britain, a woman awakens to find herself locked in a White Chamber Link #edfilmfest
Follow us on Twitter.

NEW DVD HIGHLIGHTS
120 BPM (Beats Per Minute)
DVD Review
Portrait of the ACT UP activist group, a direct action collective aiming to impact the lives of people with AIDS.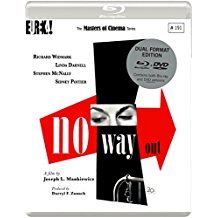 No Way Out
Blu-Ray Review
A black doctor is assigned to treat two white racist suspects who are brothers, and when one dies it causes tension that could start a race riot.