TWITTER
Austin Powers star Verne Troyer has died Link
Richard Peña has paid tribute to Vittorio Taviani Link
Hybrid documentary Island Of The Hungry Ghosts examines the plight of detained asylum seekers on Christmas Island… Link
Natalie Portman has turned down the Genesis Prize but says that she is not supporting a boycott of Israel Link
Follow us on Twitter.

NEW DVD HIGHLIGHTS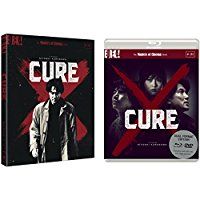 Cure
DVD Review
A detective investigates a series of murders, trying to work out why, despite each having the same methodology, the perpatrators appear to be different.
Legend Of The Mountain
Blu-Ray Review
A travelling scholar is assigned the task of translating a Buddhist scripture for a ceremony honouring dead soldiers. On his journey through the haunting mountain landscapes, he encounters temptress ghosts and Taoist priests, ancient abandoned fortresses and inns.