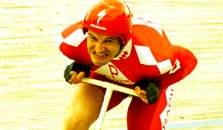 Jonny Lee Miller in The Flying Scotsman
2006 marked the final year of artistic director Shane Danielsen's curatorship. The 60th year kicked off with the world premiere of The Flying Scotsman. Crowd-pleasers included the UK premiere of Clerks II - which won the Audience Award, Sundance hit Little Miss Sunshine and Robin Williams starrer The Night Listener. Stars in attendance included big-hitters Charlize Theron (East of Havana) and Sigourney Weaver (Snow Cake).
Keith Fulton and Louis Pepe took home the Michael Powell Award for Best New British Feature Film for Brothers Of The Head, while Paul Andrew Williams was named Best New Director for London To Brighton. The inaugural Best Documentary Award went to Jake Clennell for The Great Happiness Space: Tale Of An Osaka Love Thief. Best British Short Film was awarded to Dictynna Hood for the Other Man and Run Wrake for Rabbit. The Short Scottish Documentary Award went to Edward Brooke Hitching for The Really Terrible Orchestra.
View Films by Strand:
View previous years coverage of the Edinburgh International Film Festival festival:
EIFF Latest Reviews
Edinburgh International Film Festival Features