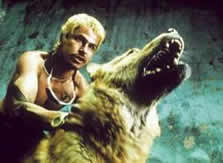 Amores Peros won the New Directors Award
Dancer In The Dark kicked off the 2000 festival, although the cast and filmmakers were noticeable by their absence at the premiere. Despite there being no sign of Bjork, there were other stars in evidence across the festival, including Robert Carlyle, singer Damon Albarn and Peter Mullan. The Festival wrapped with Wong Kar Wai's In The Mood For Love.
The New Directors Award was given to Alejandro Gonzales Inarritu for his multi-faceteed Amores Perros, while, on the home front, Paul Pawlikowski won the Best new British Feature prize for Last Resort. The Audience Award went to crowd-pleaser Billy Elliot, while Aiden Gillen won the Best British Newcomer plaudit for his role in The Low Down. Short films making a splash included A Good Man Is Hard To Find (directed by Martin Radich) and Jomeo & Ruliet (directed by Alnoor Dewshi) which shared the award for Best British Short. John Williams' Robots, The Animated Docu-Soap won the McLaren Award for new British animation.
View previous years coverage of the Edinburgh International Film Festival festival:
EIFF Latest Reviews
Edinburgh International Film Festival Features