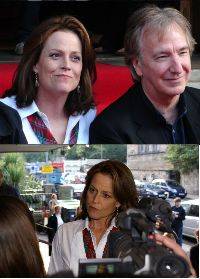 Sigourney Weaver and Alan Rickman
Stars tread the red carpet - Sigourney Weaver, JK Rowling, Steve Coogan and Alan Rickman blazed a trail of glory at the opening of Snow Cake. Hundreds of autograph hunters, press, photographers and queues of fans flocked to Cineworld and the impressive Dominion cinema today to see the celebrities.
JK Rowling was a surprise guest at the premiere of Snow Cake, and the assembled throng exploded when she stepped out of the car. She has a special interest in Ms Weaver's new film and also in autism, one of the film's themes. Rowling's 'leading man', Daniel Radcliffe (who plays Harry Potter in the film versions of the books), has not only raised funds for the National Autistic Society but also guested on a DVD (aimed at both actors and people with autism) about the link between facial expressions and emotions.
Ms Weaver seemed to love small children waiting for autographs, but she did get round to answering some of our questions, very graciously in the small time available, as well as posing dramatically while sitting on the carpet that hugged the Dominion steps. Earlier in the day she became the first recipient of the Festival's new Diamond Award, and was praised for 'the intelligence she brings to every role'. (If you missed her highly recommended new film, it has one more showing on Thursday, before going on general release on 8th September.)
My Country, My Country was the first of several outstanding documentaries touching on the big political issues of the day (set in Iraq) and will be followed tomorrow by 5 Days (a furore-creating Israeli film about the disengagement from Gaza) and An Inconvenient Truth, where former presidential candidate Al Gore, in person, presents his film about global warming.
Also coming up tomorrow, Wednesday 16th:
John Malkovich, Jim Broadbent, and Max Minghella star in Art School Confidential, a dark comedy in the Ghost World tradition. EIFF announced today that some extra tickets have been made available, so if it was sold out when you tried before, get in quick! For those who love wacky horror, The Host will delight and repel in equal measure (see our reviews!). Think monsters. Think slapstick. Think silly and scary before you have time to draw your next breath. In the packed press screening, many were ecstatic, others almost fell asleep, but to know which camp you're in you'll probably need to see this, one of the most talked about films of the Festival so far.
See you tomorrow, when I'll be watching to see if EIFF have defused the public outcry raging over two films, and hopefully give you a sneak preview of the new movie produced by the amazing model-turned-Oscar-winning-actress Charlize Theron. Want to find out how to kick off your shoes with the stars? Check out the features section where we also reveal whether Sigourney Weaver has tried any Scottish . . . errr . . . delicacies . . . !
Share this with others on...