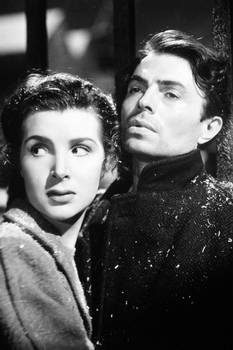 Odd Man Out - the sublime British noir, directed by Carol Reed.
Coasting into the closing weekend and it feels like cruise control. I've met so many interesting people, from staff and celebrities to people on the bus who chat enthusiastically about the film they've just seen. A lovable elderly lady has just told me how she got her hankies out for Water, the big production weepie with a strong social conscience. The Film Festival has that special element lacking in the Edinburgh Fringe: with only a limited number of showings and a dedicated audience of film addicts, there is a good chance of bumping into someone in the queue, the bar or the even at the bus-stop who has seen the same film and with whom it's possible to share a moment of inspiration and reminisce with a passion.
Today I caught up with the endearing Driving Lessons and, after a quick break, am dashing out for the Closing Night Film, a great British classic from 1947 with James Mason called Odd Man Out.
Tomorrow is the last chance to enjoy the Film Festival. As well as a documentary presented by Al Gore, there are further showings of many of the popular films, including some of today's Award winners.
Clerks II, which swept the Audience Vote, is at midday. The Great Happiness Space: Tale of an Osaka Love Thief is at 10am: this wacky documentary that follows and interviews Japanese male 'love hosts' contains a kick half way through as we see them also from the perspective of their customers - young attractive girls who spend vast sums of money on them. London to Brighton is at 2pm: I hated it, but a lot of people liked it - see for yourself, although I think the gritty Dead Man's Cards or the feelgood Snow Cake or Water are all much better value. For those who like something seriously offbeat, grab a ticket to Sheitan or The Host. Other top rated films showing tomorrow include The Aura, or you can catch the opening night Flying Scotsman if you missed it first time round. It's the last day till next year - make the most of it!
Share this with others on...