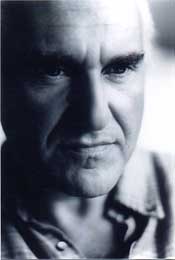 Rex Bloomstein
In a year that has seen several films focus on current day conflict (My Country My Country, Voices Of Iraq, 5 Days), Rex Bloomstein's film KZ - about the Mauthausen Nazi concentration camp in Germany - has deep resonance.
Rather than focus on survivor testimony, as so many documentaries have done in the past, Bloomstein was struck by the clash of history with the present and set about filming the echoes of Mauthausen through the people visiting and living outside its walls today.
Bloomstein is an eloquent and charming man, who says the end product is far different from the film he originally set about making.
He said: "I was making a film ten years earlier on the liberation of the camps and was talking to liberators - Russian, English and American. I filmed a German-American whose brother stayed in Germany. One guy in the German army the other joined the American army and he was in the forces who liberated the camp. And I went to Mathausen to illustrate his dimension.
But while we there and filming in the infamous quarry of death - one of the most potent symbols of Mauthausen we took a break for lunch and 300 yards down there was an inn with a fete going on. There were sausages being grilled, music playing, people laughing, joking and drinking. A funny, nice, rustic, rural Austrian scene - could be a scene anywhere - but 300 yards up the road was this place of infamy, of murder, of humiliation and terror.
"And I couldn't deal, quite frankly, with those two things - the reality of what I knew had happened all those years ago and now. How can you have fun? How can you enjoy yourself within 300 yards of such a place. Should you? But why not? Why shouldn't you have fun, move on - it was years ago. Yet there's something profoundly disturbing about that reality."
It is this clash of realities which lies at the heart of Bloomstein's documentary. He talks to women who live in the town itself, who have radically differing memories of the events. Some talking of it as a fearful place, while another says she remembers nothing bad and goes on to relate how she wed an SS officer there. It seems it might have been difficult to get people to talk about their past.
"It was a harder thing for the older people.There was a reluctance to come to terms with it. It's a tragic part of their history but luckily we found some remarkaable old people, some of whom were worrying in their in their inability to really confront the horrors, like the woman who married the SS man.
"Eventually, she talked and it was very revelatory and unusual to find such an angle - a woman who married an SS man. It is very rare to find that sort of testimony.
"Occasionally you get German SS officers or army people but it's quite rare to find a woman. She got married in a registry office, in the camp, with a guard of honour and there she is in an old people's home telling us about it. And yet she is surprised by her companions, who have far more disturbing memories.
"How come she is disturbed by it? What is she doing in terms of her own memory and her own ability to comes to terms with it. Is it about denial? I think by doing it she reflects a very human ability to blot out the worst. I think that in turn reflects on the bystander, those who stand by and don't do anything. I think we have to understand each of the processes."
This isn't the first time that Bloomstein has tackled this sort of tough subject, he previously directed The Longest Hatred: A History of Anti-semitism. But he says this subject is not his only focus.
"The three great strands of my work - over 35 years - are human rights, the British criminal justice system and Jewish themes which includes the Holocaust," he says. "I find I return to these subjects time and time again to pick away at them. I think we're just scratching the surface of them. Documentary itself has limitations. It doesn't necessarily lend itself to theory and analysis, which is not to say one can't be intelligent in the way one does it. But it is a particular medium that has particular strengths."
What seems to concern Bloomstein most is that we learn lessons from history, not repeat our mistakes. He chairs a medical charity that cares for victims of torture and is deeply concerned about world human rights.
"The contemporary reality of concentration camps is utterly relevant for us. Here you hurt people, people who are deemed undesirable. No justice, no appraisal. They're there because they represent a threat, either they will be exterminated, or tortured or abused.
"While the Nazi concentration camps is the final abyss into which we can fall, God forbid.
"The hugely important lesson from that is that this is what can happen. We've had genocide in Rwanda, Cambodia elsewhere but these acts have taken place in certain countries where a regime has targeted a group and attempted to exterminate them.
"The holocaust was reaching out right across Europe to exterminate a race. That is what can happen. That is what can happen when a modern bureaucratic state puts its mind, however grotesquely, to destroying those whom it deems its opponents.
"We haven't learnt these lessons because of the genocides that have happened but that we haven't absorbed them doesn't mean we mustn't continue to try to understand what happened.
"The idea of holocaust fatigue, is an insult of the worst kind to the memory of those where lost and to our ability to come to terms with it. We have to find new ways of integrating that experience into our own lives. The school kids that go there – I think that's a vital experience for them – and I think it should be the experience of school kids everywhere, to know what we are capable of."
Share this with others on...