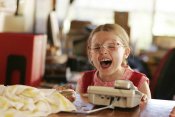 The delightful Little Miss Sunshine
The glamour-set celebrities were a little thin on the ground after last night's EIFF Birthday Party, where the flow of champagne was challenged only by the inventiveness of the whisky cocktails. But that wasn't the case with the crew of Stateside-smash Little Miss Sunshine, who arrived in beat-up VW vans, sporting "Everybody Pretend To Be Normal" badges, to grace the Red Carpet.
It looked like it would rain any minute, so I asked director Valerie Faris if the film was going to bring a little ray of sunshine to our damp Scottish clime. "Well, I hope so," replied co-director Jonathan Dayton, "Do people need cheering up? We quite like the weather - we saw some sun earlier . . ." At this point I had that sinking feeling that comes with asking a really dumb question and not getting a stock soundbite. Moving on quickly, I asked, with the movie being on a worldwide roller-coaster, what they found most fulfilling about the whole process. "Watching it with an audience - and laughing with them." So far, they had struck me as two of the most unpretentious Americans I had ever met. I grabbed a seat inside Cineworld from where I could watch them (many stars leave as soon as the introductions are over, returning only at the end and after a good meal). But they stayed. Chatting in the bar afterwards, the producers said they nearly always do (and with their family of youngsters in tow). The audience laughed till they cried. They applauded spontaneously mid-film. If you haven't been able to get a ticket for this film yet, it goes on general release 8th September.
For tomorrow, my hot tip is Dead Man's Cards, the most realistic, gritty, convincing British crime thriller since Lock, Stock and Two Smoking Barrels. If you can't beg, steal or borrow a ticket, call in some big mates...
Share this with others on...