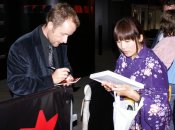 An overenthusiastic fan is welcomed by Billy Boyd - star of The Flying Scotsman
"He stands like an icon of integrity in the cycling world," is how film legend Brian Cox described Scottish champion cyclist, Graham Obree the subject of this year's packed house opening night at the Edinburgh International Film Festival. Obree, who introduced the film to peals of laughter with his anecdotes, made a bicycle out of spare parts before going on to win a world record. The cast and crew appeared in various stages of highland dress; they included director Douglas McKinnon and ex-hobbit Billy Boyd.
There are more controversial sports themes later in the Festival as a group of Guatemalan sex workers form a successful football team in The Railroad Allstars (Saturday 19th and Monday 21st), and East meets West in White Palms (tomorrow), but the real sporting highlight comes Zidane: A 21st Century Portrait, filmed from the perspective of the soccer superstar.
Coming up Tuesday 15th:
Thrice Oscar-nominated Actress Sigourney Weaver jets into town for the premiere of her new movie Snow Cake tomorrow night. Sherrybaby has Maggie Gyllenhaal as an ex-convict with a young child, The Killing of John Lennon recreates the fateful day from the diaries and notes of his murderer, and My Country My Country follows the elections in Iraq from the inside, as a doctor and his family risk assassination to stand up for what they believe.
Phew! Later this week, we'll bring you the star voted the world's most beautiful woman, right here; scandal narrowly averted as festival Director Shane Danielsen deftly dodges a crisis; and all the latest reviews of films before they are shown.
See you tomorrow!
Share this with others on...