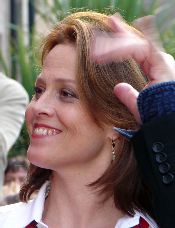 Sigourney Weaver waves to a fan at the premiere of Snow Cake
Can art change the way we view things? It was with this in mind that I listened to Sigourney Weaver and put some questions to her about her new film, Snow Cake. It concerns a woman (played by Weaver) who is a high-functioning autistic. "I had to find the autistic part of myself," she says.
Will Snow Cake change the way we view autism? Weaver compares the film to Rain Man, where Dustin Hoffman played a man with autism who is hopelessly at sea and struggling to fit in with his environment. Unlike Rain Man, Linda (Weaver's character) has an established life already. Alex (Alan Rickman) comes into her life and it is he who has to fit in with her world. To become Linda, Weaver spent a lot of time with autistic people and got them to check the work in progress, and the preparation brought her a degree of personal fulfilment. "Preparation gives you wings, so you can fly," she says. What did this feel like? "It's like going into other worlds!"
When she spoke about 'going into other worlds,' her expression had that look of wonder that comes from a compelling internal vision. I recalled a key scene from Snow Cake where she invents a magical story to illustrate her use of a word in Scrabble, leaving Rickman's character dumbfounded. Yet it also links to her other films, including the iconic Aliens series, not to mention the sci-fi spoof Galaxy Quest where she plays a sci-fi actor catapulted into the real thing.
"I had to fight for Galaxy Quest," she says. "No-one thought I could do it." Comedy is one of Weaver's favourite genres, but after playing the tough, alien-destroying Ripley for four films, her fate had been almost sealed. "It's what I feel good at," she admits, speaking fondly of another comedy: Heartbreakers, a screwball caper in which she plays a con-artist.
Yet for Weaver, the real challenge is doing something of which she doesn't at first feel capable. Her husband, respected theatrical director Jim Simpson, encouraged her early on to 'get out there more' and she says this helped her to really 'get out there far enough to surprise myself.' Her advice to young would-be actors is to get a solid education (she herself majored in English literature at Stanford University). She mentions, as an example, working with Roman Polanski on one of the most demanding scripts of her career, Death and the Maiden. "He (Polanski) would read all the parts to all of us before shooting; but then you have to find your own way." However much direction you are given, there are places where you have to think between the words and the variety of meanings.
Did she always dream of being an actor? "If I could have been anything I would have been a writer," she says, adding that she thinks she's "not good enough".
"And I would love to teach acting - especially what not to worry about." People wonder if they will look convincing in a part when often the costumes alone will make the audience assume they are from a particular country, for instance. She speaks about the outfit for Alien, and how she and Ridley Scott eventually tore through old NASA equipment and put her in a real space suit before they started shooting her destroying what is probably the most famous space monster of all time. "I don't like to call it a monster!" she says protectively, as if it was her favourite pet. Okay... creature...
It was the Giger drawings for Alien, not the strong female heroine idea, that really got her interested in the movie. The Swiss born H.R.Giger, said to suffer from night terrors, achieved international fame and received the Academy Award for Best Achievement for Visual Effects for his designs for the film's eponymous creature and its environment. She spoke lovingly but with a degree of cynicism about the producers, whom she firmly believed weren't out to make a great feminist statement: "It was like - let a girl be the survivor - no-one will ever think that's going to happen!"
Shortly after the second Aliens film, she starred in Gorillas In The Mist and then Working Girl, the first a biopic of real-life Dian Fossey working in Rwanda and the second as superbitch Katharine Parker. As a result of these two films she had the rare accolade of being nominated for Oscars as Best Actress and Best Supporting Actress in the same year. The thought of playing Dian, a real person, was quite a challenge and one she found daunting, but once she was in Rwanda among the people there she found it one of the happiest tasks she has undertaken. "I thought, 'this is heaven'," she says, and her eyes get misty again for a split second. After that, many would think that playing the bad guy in Working Girl would be unpleasant - the audience generally feels sorry for Melanie Griffith, who is the underling proving her worth against the tyrannical Parker. "I felt sorry for Katherine!" says Weaver. "She got everything stolen... her clothes, her boyfriend, everything!" Hmmm... maybe the film will look different next time I watch it...
During an aside at the premiere, her friend Alan Rickman described her as "Incredibly giving and not at all vain." I think that is how I will remember her. Sigourney Weaver broke her family vacation to come to Scotland and tell us about her new film. I hope it does well. Has she tried any Scottish delicacies - such as haggis? "No," - her nose wrinkles slightly at the thought - "but I managed some shortbread." Her afternoon outfit includes an elegant green skirt with matching satin green shoes.
Jimmy Choo? I wondered. "I love your shoes," I say, digging for information. Obligingly, she removes one shoe, but the label has worn off. "I can't remember - they're from Paris - they were a gift from a friend."
Share this with others on...