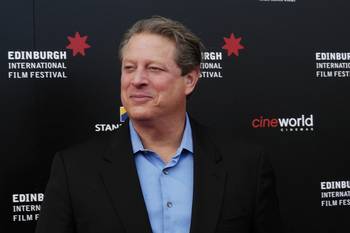 Al Gore introduces his new film An Inconvenient Truth
8.30am on the last day of the Festival and I'm in the Press Office bright and early thanks to a super-strong jug of coffee. A quick check for any updates then down to the Videoteque.
The labyrinthine Delegate Centre is a remarkable world of its own. Entering the double doors from Bread Street, I'm greeted daily by attractive and smiling young women in official staff T-shirts who hold the door open while asking after my health. I'm sure they are really there as a security measure so I make sure my badge is always visible. Ignoring the modern art engineering contraption to the right, I advance to the battery of assistants at the front reception area: ones for delegates, ones for guests and, next to the Press Office to the left, the now familiar faces of the press front desk. They are both first port of call and also good for last minute press allocations of unsold tickets. A large office behind them houses the main press office corps as well as the publicity agents from Rogers & Cowan, the firm which supplies us with press releases, details of press conferences and red carpet events, and networks with visiting filmmakers to help us arrange interviews. I check the board for any stop press changes and check the trays for any new promotional material (while swapping good mornings with Vanessa, Helen, Harshna and Josie, who have been a lifeline throughout the festival to keep me informed).
It's nearly 9am and it's down to the dungeon - or rather the 'videoteque' - a special set-up in the basement where copies of many of the films are held and can be viewed on request. There's an obscure Romanian film I want to study in some depth that we haven't reviewed yet, so I book myself in. Above me on the ground floor, reporters tap away on the Internet links that have been installed. Others chill out in Café Kubrick behind the Press Office. On the fifth floor lies the beautiful Conference Centre that has seen so many celebrities these past few days, including Charlize Theron, John Hurt, Kevin Smith, Chrissie Hynde . . . the list goes on. On most days we could say to visitors, "What do you think of Edinburgh?" as they surveyed the panoramic view of the city from this beautiful rooftop location. Only Charlize's visit was marred by mist - appropriately perhaps, as my questions about the U.S.-bias of her new documentary have since been echoed by other reviewers around the globe.
One of my favourite guests was Lone Scherfig, the Dutch filmmaker and Jury Member whose Dogme95 film, the award-winning Italian for Beginners, marked her out as a serious filmmaker of artistic excellence. Many Scots will know her for the hilarious movie Wilbur Wants to Kill Himself but, whatever her claims to fame, on the day of the press conference Ms Scherfig stood out as a blonde bombshell, a ray of sunshine to defeat the gloomiest of weather.
Al Gore gave a brief opportunity to photographers this afternoon at the opening of his documentary, An Inconvenient Truth, at Cineworld. There was no press conference and I had been advised he was not likely to take questions outside. A pity, considering we don't often get a presidential runner-up at the Film Festival. His film looks at the 'green' issue of global warming - is that an international vote winner? In the last five years of the festival, America has slipped in popularity polls around the globe due to its foreign policies, and my question to him would have been: how can the US regain respect in the world? If his film can convince us on such non-partisan, international issues, it could be a great leap forward, but such arguments must be very convincing to get across on a slideshow such as An Inconvenient Truth. (If you missed it today, it is due to open nationwide on the 15th of September.)
From humble roots many years ago, Edinburgh's is the first film festival in the world to reach 60 un-interrupted editions. It has been a privilege to review films for you and hopefully make it easier for you to find the films that you will enjoy (at the time of writing, Eye for Film has reviewed over 100 of the Festival films). More articles and interviews are now in the pipeline, so you can find out more about some of your favourites, including Dead Man's Cards and Little Miss Sunshine (and both of these are also on general release before the end of the year). What's my favourite film of the Festival? House of Sand. Best moment? Getting Sigourney Weaver to take her shoes off (see the feature!)
Till next year . . .
Ciao from the 60th International Edinburgh Film Festival!
Share this with others on...