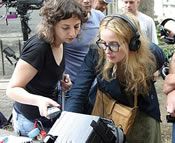 Julie Delpy on the set of the film
Waiting for Julie Delpy to come into the interview room, I tune in to the conversation outside. One of the PR team who brought her to Edinburgh for the UK premiere of her latest film 2 Days In Paris is giving her a gift. There is laughter and a promise to read it before she enters the room clutching a self-help book on how to conquer a fear of flying.
It's seems ironic that such a high-flier should be scared of planes but Delpy admits that she has a "big time" phobia.
"It's a problem," she adds, "like, I had to cancel my flight here at the last minute because I couldn't get on the plane. I can get in big aeroplanes but if I get to the airport and it's a tiny aeroplane then there's no way I'm going to get in.
"My parents were with me, so we cancelled the flight. We took a taxi all the way to the train station, got on the train, spent one night in London, got on the train in the morning to get to Edinburgh yesterday morning."
She has certainly come a long way in terms of travelling but her onscreen skills have also been developing in recent years. 2 Days In Paris is a comedy in the Woody Allen mode, which sees Delpy play Marion, a ditzy French photographer who takes her boyfriend Jack (played by Adam Goldberg) to meet her family on a weekend in Paris in the hope of rekindling their flagging two-year relationship. Romance takes a back-seat, however, as their bickering threatens to spiral out of control.
Although Delpy has won plenty of critical praise for her acting in film's such as Kryzsztof Kieslowski's Three Colours White and Red and Richard Linklater's Before Sunrise and Before Sunset (which also garnered her an Oscar nod for her contribution to the script), it has taken her years to convince anyone to take her seriously in the role of director, having only helmed a couple of shorts and the ultra low-budget Looking For Jimmy previously. This is something that, understandably, irritates her.
"You kind of think, 'darn it, why didn't they give me money before'," she says, dismissing any idea that she might not have been ready to direct until now. "I mean, I've got so many other screenplays I've written but maybe it was meant to be that way, that I had to wait so long to make my first film.
"I could have made good films 10 or 15 years ago. It's really painful to realise that it's not my screenplays, it's not my capacity at directing, it's just how people perceive me when I walk into a room. I'm not a very self-secure person and at the same time I'm strong so the image that I project to producers is that I don't know what I am doing but that I am strong-headed, so it's like a nightmare for producers. Which is actually the opposite.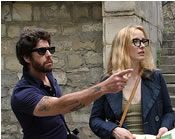 Julie and Adam as Marion and Jack
"I know what I'm doing and, actually, I'm strong-headed but I'm not against criticism. I can take criticism and I can listen to people and say, 'oh, okay you're right on that and I'm wrong'. I can accept to be wrong so, for the producers who just worked with me, it's like a dream for them because they can give me notes, yet at the same time I know what I want and I know what I'm doing - yet it's weird because I project the opposite."
The idea of opposites is certainly a strong one in 2 Days In Paris. There is plenty of culture clash comedy, mainly born out of Jack's inability to speak French, but also the idea of Marion as a much more flighty creature than her slightly neurotic New York beau. Given that Marion is onscreen almost continuously, it seems like a particularly brave that Delpy not only opted to write, score and direct the movie, but also star in it.
"I love acting but directing is very exciting," she says, her eyes sparkling at the thought. "It's new also for me, so it's very exciting because I've been trying to do it for so long, it's an exciting process and I can't wait to start my new film I'm so excited – and scared – but terribly excited."
She's definitely excited then, but it also seems that she wants to set the bar high for herself, "Yeah, but I love the challenge and I'm doing it for my next film as well. I'm terrified and super-excited. It's a drama, called The Countess, it's a period drama. It's like pure adrenalin of excitement. I'm terrified, excited, nervous, I can't sleep."
And the 38-year-old says that rather than making her spread herself thin, directing also brings out better performances from her as an actress.
"I like the challenge and the emergency. The challenge is so high that it's like you have a gun to your head and you think 'if I miss this, I really miss this.' It's almost like you have no choice. I love this feeling of having to know what you are doing at all times.
"You have to do it as an actress and you have to be capable of judging the other actors' performance as you are acting. And the challenge is like a high, like when people lift cars when their kids are under them – you're like that all the time. But it's really a great high. I've never done drugs, I'm not a drug person, I've never been interested in drugs… and I swear to God it's better than what I can imagine drugs is like.
"You're more aware of everything than ever. You're aware of the camera movement, you're aware of your performance, you're aware of the other actors' performance, you're aware of the light, it's like a hyper-awareness. It's an amazing feeling and it's all driven by pure adrenalin… but the good kind. I'm sure it's the good kind because I can feel I'm taking off. I'm so scared of flying… but I love that take off, it's like [she makes an impressive taking off whooshing noise] it's so strong.
"And I noticed something, when I was acting with Adam, and seeing him act at the same time. I was listening to him a lot when he was talking. Sometimes when you're acting you're 'in yourself' kind of locked in and you're not listening to the other person as much and for once I was listening. And it's funny in scenes when the camera goes back and forth I noticed that I was better than in some films because I was really listening, just like I would have been listening as a real person.
"I was not caught up in my acting, I was also with the other person and it was actually more giving than I've when I've ever acted before. I was more listening for real. Sometimes I see in movies – and I've seen it in myself – sometimes I'm in my character but I'm not with the other character and in a way I was with him because I had to observe him acting as well, so in a weird way it helped my acting."
It wasn't just her own acting that Delpy was keen to work on, however, she was also working on ways of bringing out the best from Goldberg - no doubt enjoying the change of pace from his role in David Fincer's Zodiac. In fact, one of the reasons Goldberg looks so confused during some parts of the film may well be because he actually was at the time of shooting – since he doesn't speak French.
"I made sure that I didn't translate all the lines. He deserved it. He knows what the scene is about but there's a few little jokes, like the mother saying 'with such a weird face, he better be smart', things like that.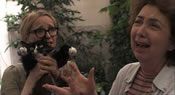 Julie and her mum Marie Pillet in the film
"I translated it to him afterwards, and he was, like, 'that's not very nice.' It helped his performance so much, for example in the taxi cab where the guy is flirting with me and he doesn't know what's happening it helps. He knew and that's why he didn't ask much. He asked once or twice… and I kind of avoided answering. He knew it helped his performance so he didn't push it."
Delpy also had plenty of moral support on the set, thanks to her mum and dad - respected French actors Marie Pillet and Albert Delpy - who she had in mind right from the start when writing the script.
"It was a lot of fun," Delpy says. "Directing them was not hard at all. They are professional actors and they just, right off the bat, stepped into their characters. It was not mother/daughter father/daughter relationship any more. They were so happy, they were having such a good time.
"And I really wrote the parts for them and when I was writing the screenplay I asked them. I asked my mom, 'so what about you have an affair with Jim Morrison in 1968?' and she was like 'Yes! Finally, an exciting past!" Dad thought it was hilarious."
Audiences up and down the country may well agree.
2 Days in Paris opens across the UK on August 31.
Share this with others on...