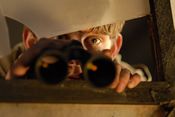 Hallam Foe
It came as little surprise this morning when it was announced that Hallam Foe will be the opening night film for the 61st edition of the Edinburgh International Film Festival.
The film is helmed by director David Mackenzie, who has a long history of association with the Festival, with his full-length feature directorial debut The Last Great Wilderness premiering there in 2002 and follow up Young Adam opening the 2003 festival and scooping that year's Michael Powell award for best new British feature. His drama Asylum also screened at the 2005 festival. The choice of the film starring Jamie Bell is obvious - and welcome - since it was largely shot in and around the city (see our previous news story).
The romantic drama also stars Sophia Myles, Ciaran Hinds and Claire Forlani and was adapted by Ed Whitmore from Peter Jinks' novel of the same title.
The film is about a sweet and old-fashioned boy who learns about life at his father's estate through his favorite pastime - voyeurism. Convinced his stepmother is responsible for his mother's suicide, he finds himself driven to the rooftops of the city where he tries to come to terms with her death and himself.
The official theme of this year's film festival is "The Written Word," which makes Hallam Foe an ideal choice for the opening film as it is an adaptation of a Scottish novel.
Announcing the opening film, the incoming Festival director Hannah McGill, said: "Hallam Foe' is a stunning achievement by all concerned - a film with an unforgettable atmosphere and some of the finest performances of the year. We're enormously proud to have the film open what we anticipate to be a landmark film festival."
Robert Mitchell, SVP and MD Buena Vista International (UK) added: "Hallam Foe is a hugely accomplished piece of film-making and we are delighted the film has been selected to open the 61st EIFF.
"Hallam Foe presents a beautiful vision of Edinburgh and is crafted by one of Scotland's most respected filmmakers. We wish Hannah McGill every success with the Festival in her first year as Artistic Director."
Buena Vista International will release the film in the UK on August 31. Magnolia Pictures will release the film in the US.
EIFF 2007 takes place this year from August 15 through August 26. The EIFF official 2007 programme will be announced on Wednesday, July 11, 2007 - and we'll be bringing you full details then.
For more information about the film, visit the official blog
Share this with others on...