Eye For Film >> Movies >> Lynch (one) (2007) Film Review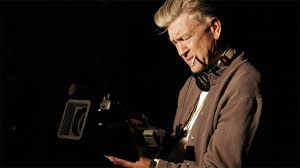 The creative impulse is a notoriously difficult thing to capture, and while its processes, and its associated anxieties and ecstasies, are arguably the subject of David Lynch's first feature Eraserhead (1977), it is far harder to get inside the head of the director himself – not least because of his well-known reluctance to discuss the meaning of his films except in the most abstract terms. Yet for Lynch, art is more about 'the doing' than 'the fruit', and so it seems fitting that this feature-length documentary shows the director precisely at work, doing what he does best.
A small documentary crew (known collectively as blackANDwhite) was granted intimate access to Lynch over two years as the director worked on INLAND EMPIRE (completed in 2006). They were able to trace the film from its uncertain conception as a series of experiments with digital video in Lodz, Poland, towards the masterfully bewildering shape that it would eventually take – and as a film that Lynch, in a move unconventional even for himself, was literally shooting without a script and making up as he went along, the production of INLAND EMPIRE affords unusually revealing insights into the director's creative process.

"There was a thought for a long time that you had to suffer in order to create, and this is just about opposite of the truth," observes Lynch. "If you're suffering, even a little bit of suffering cuts into your creativity." At first, the director's words seem to be contradicted by what LYNCH (one) actually shows, as Lynch admits to being "tormented beyond the beyond" by not knowing what he is doing, takes to clutching his head despondently in his hands and growling aggressively at his crew of "fuckin' morons", and declares in a moment of raw candour: "I'm so depressed." Yet once he starts working with the actors on location, a transformation takes place. Lynch becomes almost child-like in his enthusiasm and excitement, and the glee written on his beaming face is that of someone whose once vague dreams are becoming a reality.
Not that LYNCH (one) in any way confines itself to the sort of marginal material normally found in a making-of featurette. For a start, the documentary shows Lynch engaged in all manner of artistic endeavours that are not related exclusively to INLAND EMPIRE, or even to cinema. We see him in his office, recording his daily weather reports for the registered members of davidlynch.com, or in Polish factories taking moody digital photographs, or in his yard working on vast multimedia canvases, or in his workshop sculpting animals or making furniture, or taking a hands-on approach to dressing sets, or even in a studio recording his own heavily treated vocals for a song – or else just telling bizarre anecdotes from his past.
Indeed, there seems no limit to Lynch's drive towards artistic expression – and while much is made of his long-term adherence to Transcendental Meditation as a source of both personal happiness and 'pure creativity', he is just as willing to draw on 'The Big Book' for inspiration. "I'm reading the Bible to get ideas, to find out what this film is about," he says, before revealing that the particular episode that interests him is the outlandish Mark 5 which, with its themes of demonic possession, schizophrenia, metempsychosis and redemption, is as good an associative map as any to guide viewers through the labyrinth of lost identity that is INLAND EMPIRE.
LYNCH (one) displays an artistry all of its own, quite unlike the thrown-together 'qualities' of your typical behind-the-scenes extra. BlackANDwhite keep in focus the sort of strange detail that would normally be edited out but seems, in its oblique way, telling. Lynch's half-joking obsession with Bastille Day, for example, which becomes a dominant motif in the documentary, reflects the Francophile tendencies of a director who has often found it easier to get funding from Canal Plus than from Hollywood, and who once comically celebrated Franco-American relations in the short film The Cowboy And The Frenchman (2008) – while all those weird autobiographical stories that Lynch tells about dead cows, oversized rabbits, otherwordly spaces and random acts of violence have, of course, informed the imaginative texture of his subsequent films. It all feels like a free associative trip through the land of Lynch.
BlackANDwhite have also adopted many of Lynch's different stylings, mixing black-and-white with colour, blending disorienting sound design with Sune Martin's atmospheric score, cutting away to surreal shots of, say, a bug crawling up a wall or a figure dressed in a grotesque mask, and, in one particularly striking sequence, setting Lynch's narrated memories of a horse-butchery scene from Georges Franju's documentary The Blood of the Beasts (1949) amidst their own unsettling images that marry the visual aesthetics of Lynch and Franju.
If Lynch's filmwork has spanned the whole of cinematic history, from his use of the Lumière brother's original hand-cranked wooden camera for his eerie one-minute short Premonition Following An Evil Deed (1995) to his recent conversion to Digital Video, then blackANDwhite manage to capture him salivating over an ancient film projector in a glorious old cinema where he is shooting scenes for INLAND EMPIRE on a consumer digicam (the Sony PD-150). And if Lynch's films are often concerned with alter egos and split personalities, then the documentary's final sequence before the closing credits uses editing trickery to show Lynch apparently directing and filming himself seated opposite.
Along with Toby Keeler's Pretty As A Picture: The Art of David Lynch (2007), blackANDwhite's documentary is essential viewing for anyone with an interest in the world's best known experimental filmmaker – and as well as offering fascinating insights into the working practise, philosophy and idiosyncrasy of Missoula, Montana's most famous Eagle Scout, LYNCH (one) is a work of strange and elliptical beauty in itself. Thoroughly recommended.
Reviewed on: 03 Jul 2009
Share this with others on...