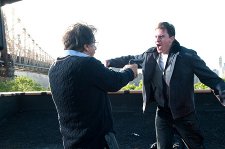 The Son Of No One will close the festival
The daddy of all independent festivals celebrates its 27th edition in 2011. Run in conjunction with the Sundance Institute - set up by Robert Redford to support independent film.
This year's festival runs from January 20 to 30 and will close with Dito Montiel's The Son Of No One. This year also sees the introduction of a new section - Documentary Premieres - to give greater exposure to this expanding area.
Got a feature or short film screening at Sundance 2011 and want us to review it? If you have a screener, please feel free to send it to us.
Listen to a sleep-deprived Amber Wilkinson talk about Sundance hits and misses with US critic Jeremy Mathews over at The Same Dame Podcast.
View Films by Strand:
View previous years coverage of the Sundance Film Festival festival:
Sundance Latest Reviews
Sundance Film Festival Features
Sundance Film Festival News