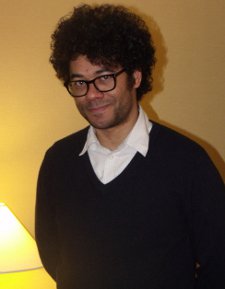 Richard Ayoade Photo: Amber Wilkinson
Richard Ayoade makes his directorial fictional debut with Submarine - a clever coming-of-age tale filled with a gentle wit and charm. Interviewers frequently mention the 33-year-old's soft-spoken, self-deprecating manner and - after meeting him out at Sundance - this is no surprise. His ability to be unbelievably nice while simultaneously conveying the air of a man who would rather be doing anything other than being quizzed by a group of journalists is second to none.
Referring to the 'round table' of eager critical faces he has come to talk to, he says, slightly despairingly: "I've never done one of these things before, it's a different discipline... I don't know where to look."
What he most certainly does know how to do, however, is direct, with Submarine causing ripples at festivals from Toronto and Sundance to London and predicted to do well at the box office thanks to very favourable word of mouth on the social network circuit.
The film - based on the novel by Joe Dunthorne - tells the story of Oliver Tait (Craig Roberts), a precocious teenager with ideas of grandeur, who is simultaneously trying to bed the girl of his dreams and stop his parents' marriage from tearing apart at the seams.
Ayoade has plenty of experience in television. He co-wrote and starred in Garth Marenghi's Dark Place and Man To Man With Dean Lerner and has gathered a fanbase playing Moss in The IT Crowd. But did he find stepping up to a cinematic canvas a challenge? Ayoade, a man who chooses his words carefully, isn't sure about the term.
"I think cinematic often feels like it means Cecil B Demille or some massive 'scope' something, but Ingmar Bergman is very cinematic and it's all close-ups so I don't think there's anything inherently grand about films and ungrand about TV.
"I guess traditionally films have had bigger budgets, but that is changing and this [Submarine], I imagine, would have had a much smaller budget than most American TV shows. So there's no real thing in that arena other than that the skeleton of it has to operate differently because of the length - just trying to work out how to get the point of view of it working."
Cinematic or not, it's obvious that Ayoade is something of a cinephile himself, with his film referencing everything from Woody Allen through to the French New Wave. Again, he's not too keen on the term.
"Film buff sounds like you possess some form of authority, so I wouldn't say that," he says. "You read interviews with Scorsese and he'll say, 'At six, I discovered the difference between what I was watching and Italian neo-realism.' You know, that's being a buff. Outside of that, everyone's dabbling more or less."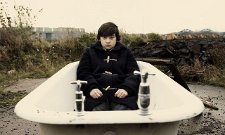 Craig Roberts as Oliver Tait in Submarine
However he wants to term it, Ayoade is clearly a film fan and thankfully, prepared to talk about some of the influences in the movie.
"The idea of it was that the character in it sees himself as though he's in a film," he says. "So, he would view himself as a sort of existential, Albert Camus figure, who would have liked those things. In terms of the things that are direct influences - Taxi Driver, because it's incredibly subjective and Badlands. They seem oddly violent examples, but it's just because they have voiceovers and the voiceover is a counterpoint to what you see. I suppose, French New Wave - Louis Malle and Zazie Dans Le Metro and Le Souffle Au Coeur and all those films he did. Truffaut, I suppose and Godard, Eric Rohmer and Claude Chabrol - I guess they were the main influences."
The closest literature anti-hero to the posturing Oliver is probably Sue Townsend's Adrian Mole, but he certainly wasn't an influence on Ayoade's film as he has "never read the book". He was, however, drawn in by Dunthorne's character.
"I guess there's something interesting about a character this age that is, in some respects, having a mid-life crisis but at 15 and was quite mean. I thought that was quite interesting because with most coming of age things, because the author tends to be doing a version of themselves the character appears to be completely blameless and haloed. A revered individual who is misunderstood by everyone else."
And it's Oliver's sense of himself that also dictates the music in the film - much of which was written by the Arctic Monkeys' Alex Turner.
"The idea was that there was an internal soundtrack, done by Andrew Hewitt, the composer, like Georges Deleurue or a kind of Bernard Herrmann score to Oliver's grandiose idea of himself," says Ayoade. "Then the songs would be more about the relationships, so they in a way exist physically in the world on the tape that his dad gives him.
"That was always in the script and that there were going to be two songs that would be played in their entirity, which is very rarely done. I know you can feel that when people have a piece of music come on in a film that you know it's going to stop in 50 seconds because that's everyone's internal montage eggtimer that runs out. But I liked that in The Graduate you could have two songs - Sound Of Silence and April Come She Will back to back or Butch Cassidy And The Sundance Kid where you would have a song that could be like a reset in a way. I think it just depends on what the story is. This felt appropriate to this. Paul Thomas Anderson and Kubrick are the best people with music."
Back to those influences again and older films, in particular, are something Ayoade feels strongly about. He is a fan of Peter Bogdanovich and his contemporaries - "someone who is not mentioned very much". And he thinks that there seems to be "pre and post-internet thing" with the comedy influence of directors such as Ernst Lubitsch (The Shop Around The Corner, To Be Or Not To Be) and Preston Sturges (The Lady Eve, Sullivan's Travels) too easily forgotten.
He adds: "I love something like Napoleon Dynamite but it's almost as though there's a G round Ze ro at Goodfellas or something, that all things happened after that. What I like about the French New Wave is that they took all those American films and seemed to know all films that had gone before and messed around with it in a way that was affectionate but not pompous, and entertaining."
Affectionate, not pompous and entertaining? Much like Ayoade himself.
Submarine is out in cinemas across the UK from today.
Share this with others on...