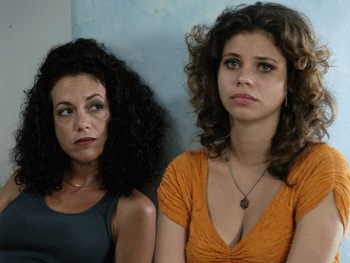 Ticket To Paradise
Day three of Sundance was all about the struggles of youth, as far as my agenda went. From homeless teens taking desperate decisions in Cuba to a lonely teen in the States and a precocious youngster in Wales, I got down with the kids.
And down is the right word when it comes to Gerardo Chijona Valdes' chilling assessment, in Ticket To Paradise, of what desperation can lead to for teens living against the backdrop of 1993's economic crisis in Cuba.
Eunice, in the face of abuse at home from her father, runs away and finds herself taken under the wing of a group of streetwise homeless kids who are heading for Havana. There seems to be no way for them to break out of their circumstances, until the charismatic Alejandro hatches a scheme which seems to offer a perverse form of hope.
Touching and chilling in equal measure, this is a moving study of friendship and desperation. The fact that it claims to be based on a true story is particularly depressing, given the tragic choices made by some of this group of unlikely friends.
Next came a brief chat with Submarine director Richard Ayoade, whose fiction feature will be released in cinemas across the UK March 18 (read the full interview with Richard here). His answers are sweet and a little lightweight, not unlike the film itself. Clearly not a man to blow his own trumpet, he shies away from praise and seems a little bit bewildered by all the attention. We'll be bringing you the full interview around the time of release, but it was interesting to hear him talk about some of his influences for the film which is shot almost exclusively from the perspective of its 15-year-old central character.
"The idea of it was slightly that the character sees himself as though he's in a film, so he would view himself as a sort of existential Albert Camus figure who would have liked those things. In terms of things that were direct influences, it was things like Taxi Driver, because it's incredibly subjective and Badlands... although they seem oddly violent examples. But just because they have voice overs and the voice over is a counterpoint to what you see. I suppose, French New Wave, Louis Malle - Zazie Dans Le Metro - Truffaut, Godard, Eric Rohmer, Claude Chabrol, I guess they were the main influences."
The last film of the day features a very different teenager, who far from seeing himself as some sort of filmic hero, seems to want to make himself invisible. That's a problem, because Terri is a hulking bear of a child living with and caring for his sick uncle. Even the school bullies don't seem to view him as a target worthy of hard-core bating. But salvation from his alienation appears in the unlikely form of school vice-principal Mr Fitzgerald (John C Reily), a teacher who gives him space to express himself. "They treat me like a monster because that's what I am to them," says Terri but rubbing shoulders with the other school misfits, he finds an unlikely camaraderie.
Beautifully paced and touchingly funny throughout, Azazael Jacobs' film is a genuinely fresh examination of loneliness and the salvation of unlikely friendship that never hits a wrong note. His central character is refreshingly sweet and unspoilt by the world, making his gradual triumph as an unlikely hero all the more compelling. Jacob Wysocki is wonderful in the central role, while Reilly provides gentle support, courtesy of a delicately pitched script by Patrick deWitt (of whom, let's hope we soon hear more), which bristles with natural humour and soul. One of the must-sees of this year's Sundance.
Share this with others on...