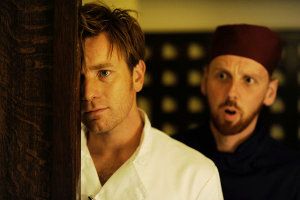 McGregor and Bremner in Perfect Sense
There's plenty of British interest at Sundance this year, with Paddy Considine and Richard Ayoade bringing their first full-blown fictional features to a US audience. And more established names are also in evidence. Asif Kapadia's documentary on racing driver Ayrton is in competition, while Erica Dunton's To.get.her features in the Next section. The Scots are also here in evidence, with Peter Mullan putting in his usual intense turn in Considine's Tyrannosaur, while Ewan McGregor features in Perfect Sense.
I manage to catch up with both of the Scottish directors who have films here - David Mackenzie and Kevin Macdonald - along with one of the co-stars of Mackenzie's Perfect Sense, Ewen Bremner.
Speaking to Mackenzie about his film which is, essentially, a romance between a chef (Ewan McGregor) and epidemiologist (Eva Green) set against a backdrop of a sci-fi apocalyptic story in which people begin to lose each of their senses one by one (more on my thoughts about that here), he talks about blending the two themes.
"You are wanting to let it occupy a slightly mythical space as opposed to a realist space. For me the film is in a realist register but slightly removed from that.
"I found the hardest thing about making the film was dealing with the themes of loss and abstract versions of some kind of end of the world thing, be it fictional or not. I found that immensely tough.The idea that it was a big story on a small palette, but emotionally it was very hard to do."
Mackenzie is happy to cite several films as influences on him.
"There are three films that I had in mind when I was trying to work out how to do the film. One's a British cult movie called Radio On, a road movie from the 80s with a lot of music in it and a very minimal style. One was a movie by Jean-Luc Godard, Alphaville, which is a futuristic theme in a minimal palette. And another was a movie by Chris Marker called La Jettee. The idea of telling big stories on a small palette was what we tried to do with this movie."
When it came to the shooting of the film itself, Ewen Bremner, who plays a kitchen colleague of McGregor's in the film, talks about spending time in a real kitchen in preparation.
"There was a couple of weeks before where we had sessions in the kitchen with Guy Cowan, who was the adviser, on it," he said. He took us into his restaurant kitchen and showed us how it works from the ground up and gave us a crash-course in kitchen skills and preparing the several dishes that would be used in the film. We practiced them until we got it right."
Bremner confesses he hasn't been trying his hand at the newly learned dishes at home, though.
"One thing about cooking that I'm really terrible about it timing stuff - like, if I've got to make a dessert and a starter and a main course, it's going to be really stressful and badly timed," he said. "But in a professional kitchen it has to be perfectly timed. David had to work out a way to capture not only the dialogue in scenes, but the way that the dishes are arriving. The timing was a really precise dance."
If the cooking was tough, it was just one of the challenges in the kitchen of the film, as one scene requires the actors to be so ravenous that they will eat anything to hand - from lipstick and flowers to raw fish. Bremner has the dubious pleasure of chugging back a jug of oil, while McGregor is seen scooping Coleman's mustard into his mouth. But was it real?
"Everyone's doing that, " says Mackenzie. "Some people didn't have to swallow it, but there's no faking it."
" It wasn't very pleasant," adds Bremner. "There was a lot of unpleasant stuff going on in that scene - I didn't have the worst of it. People really put themselves out there to create it."
Burrow a little deeper, though, and it seems that not everyone had to perform with the real deal. It turns out McGregor managed to switch out his mustard for custard. Bremner recoils in mock horror that his co-star managed to escape. I suggest a custard rider in future.
And it seems that even though Mackenzie has this film in Sundance and a second feature, You Instead - shot guerilla-style at last year's T in the Park music festival, he's not letting the grass grow under his feet.
"I'm going to try to do some writing and I've got a sci-fi project that I'm interested in, he said. "We're quite close to being ready with a script that's a religious conversion horror story."
I dash straight from one interview to another, catching up with Oscar-winner Kevin Macdonald about his Youtube project Life In A Day. When I saw it earlier in the week, I was surprised by how profoundly moving it was, so it's fascinating to hear him talk about how he came to be attached to the project.
"I was phoned up by Liza Marshall from Scott Free, which is Ridley Scott's company and she said they had been having some conversations with Youtube and they wanted to make some sort of a film to celebrate their fifth birthday and they would finance the film and did I have any ideas what to do," he said.
"So I got together with her and we figured out an idea of how to do it and went to Youtube and said, 'This is what we'd like to do, will you pay for it?' They paid for half and said yes. I've never done a film before that was a sponsored film but the person who was doing it had no editorial input at all. That was the deal, they couldn't say, 'You can't show this' or 'Show more of that'. So they've been the perfect commissioners, it's not like working for a studio. They have completely given us independence and creative means, it's been fantastic."
The end result is a superbly edited and surprisingly nuanced look at the world through the eyes of Youtube visitors on July 24, 2010. The film was cut together from more than 4500 hours of footage - and Macdonald admits the response was a surprise.
"We didn't know what we would get," he said. "We were told by Youtube because they had done something before called the Youtube orchestra, getting people to play instruments and basically audition on Youtube and if you were chosen you would get flown to New York to play in an orchestra. So from that they had 5000 entries from around the world, so they reckoned we'd get 12,000 and we ended up with 81,000 or something like that."
He worked with a team of 23 editors, under the watchful eye of Joe Walker, who painstakingly sifted through all of the videos sent in, cataloguing them in a database via keyword and giving them a star rating. At the end of the process, there was around 250 hours of raw material which Macdonald whittled down to the final 90-minute film.
"We figured there were what we called our 'structural buttresses' which were the strongest films or the strongest characters and there was about 20 of those and that was the first thing," he said "We said, okay, we think these are the strongest bits of film, how can we structure this in a way so that we can go from dark to light to dark to light and then we started filling in the gaps. For example, we knew we wanted to have images of people getting up, so we went through all the most interesting images of that, people walking the planet, as it were, there's a big montage of that and that was where the database came in so handy."
Macdonald says the process was fascinating, bringing out the "voyeur" in him. But he is also interested in the way that it blends the old with the new.
"The interesting thing about this film it is at one and the same time a very new film that could only be done now with the web and with cheap digital cameras but at the same time it's a very old-fashioned kind of film because it's an archive film, like films that have been made such as the World At War.
"Films that have taken archive and manipulated and used that to express a story or a narrative and their own preoccupations. So it's interesting that the film has very traditional, old-fashioned documentary roots in one way but it's also bang up to the minute and technologically cutting edge at the same time."
Read the full interview with Macdonald, here.
I wrap up the day with late night film The Cinema Hold Up (Asalto Al Cine), which broadly comes under the category of outsider teens - this time those who are disenfranchised in Mexico. Although dramatically driven by an actual cinema heist plot device, it is the character drama which holds the joy in this impressive debut from Iria Gómez Concheiro.
Her slow build attitude towards the heist at the heart of the film, allows us to step into the world of Negus (Gabino Rodriguez) and his friends - a world that holds little in the way of excitement except the headrush of grafitti and where adults are more of a hinderance than a help. Expertly directing both professional and non-professional actors, she offers a realistic portrait of life for many. Particularly interesting is her focus on the child-like aspect of the teenagers, showing that although they may be weilding guns they are, in many ways, just lost boys and girls, whose lives could change if only they received more attention from the adults who surround them.
Share this with others on...