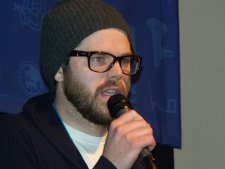 Sean Durkin director of Martha Marcy May Marlene
After the knee nonsense and interview heavy past two days it was nice to get back into the groove of film watching some films. Started the day with one of the many movies here that deals with cults of one sort or another - others include Red State, Salvation Boulevard and Higher Ground - the impossibly named Martha Marcy May Marlene. Already picked up Fox Searchlight, I'd put money on Sean Durkin's film being released under just one of those names when it finally hits cinemas. Tellingly, even the person from Sundance introducing the film stumbles over it, but name or not, it has been getting plenty of buzz around Park City - where most people are referring to it as The Four Ms - and after watching it I can see why.
Elizabeth Olsen (yes, she is the younger sibling of the Olsen twins) stars as the multiple-named woman of the title. We meet her as she flees a cult somewhere in the Catskills. Heading to the nearest small town she calls the sister she hasn't seen in years - and her only family - and the rest of the film charts the next three weeks of her life as she tries to come to terms with the abuse she has suffered, illustrated by flashback and her sister (Sarah Paulson) and husband (Hugh Dancy) try to work out what on earth has happened to her.
Durkin's film is steeped in intriguing ambiguity. He never outlines the credo of the cult, for example - no religion is mentioned at all. Instead he focuses on the actions of the group and its leader Patrick (John Hawkes, displaying the same sort of quiet menace he brought to last year's Winter's Bone), showing both the attraction and repulsion that they hold for Martha. Equally subtle is his depiction of Martha's 'real' family unit, which finds itself stretched to breaking point by her, possibly completely justified, paranoia. Those who like easy resolution and cast iron fact may find the film disappointingly open-ended, but it is a beautifully acted, neatly pitched drama that should propel Olsen and the director onto bigger projects.
Speaking after the screening, Durkin talked about his research for the movie.
"I started reading a lot about different groups. I was looking for something to inspire a story about a particular character," he said. "And I read this one passage about woman who escaped from a violent group.
"Something about the way it was written really stuck out to me and made me wonder what the immediate next three weeks of her life were like. So I took little things from lots of different groups that I read about and as I was writing a friend of mine came forward and said that she had actually been involved with a group like that and she wanted to share her experiences with me. So a lot of it is based on her own experiences."
Asked about whether he had any qualms about casing Elizabeth given her high-profile sisters, he added: "She's just got out of NYU and started auditioning this summer and I was lucky enough to come across her in our casting sessions. I saw every girl I could between 18 and 25 in New York and the second I saw her and she read, that was it.
"The only thing I thought about it [her famous sisters] was that I hoped it wouldn't be distracting. The only reason I chose her was because she was the best actress and she's proven that."
If Martha Marcy May Marlene has one of the least memorable titles at the festival, Codependent Lesbian Space Alien Seeks Same must be one of the names that sticks in your head the most. Deliberately drawing on a Fifites B-movie heritage, it is the story of aliens who come to earth to find love and rejection because their "big feelings" are destroying the ozone on their home planet Zots. One of the aliens, Zoinx (Susan Ziegler,) falls for shy shop worker Jane (Lisa Haas), while another pair Zylar (Jackie Monahan) and Barr (Cynthia Kaplan) find comfort in one another rather than the earthlings around them.
The scenes involving the aliens are frequently very funny, and while metaphors concerning being lesbian are there, they don't get in the way of some nicely pitched comedy, much of which arises from Haas' outlandishly dead pan delivery. Less successful are interludes involving two men in black (Dennis Davis and Alex Karpovsky), which are noticeably less funny and more stilted than the scenes involving the aliens. Still, there's enough here to suggest the film will become a feature on the festival circuit over the coming months.
I wrapped up the day with alienation of a very different kind in Restless City. Ravishingly shot by Bradford Young, it tells the story of an African immigrant (Sy Alassane) who falls for a prostitute (Nicole Grey) - a move which can only lead to trouble. The story is something of an amble into narrative territory that feels familiar and the non-professional cast show their roots - but the multitude of striking images and bold scoring mean it remains a mesmerising, if dreamlike watch.
Share this with others on...