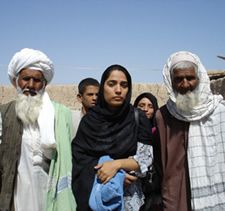 Enemies Of Happiness won the World Cinema Documentary competition
Turning its attention increasingly to short film - and announcing a mobile phone project - the daddy of all independent festivals goes from strength to strength. In 2007 122 feature films were selected including 82 world premieres, 24 North American premieres and 10 US premieres, representing 25 countries with nearly 60 first or second-time feature filmmakers.
The Grand Jury Prize Dramatic went to Padre Nuestro - concerning a Mexican immigrant in New York - while the Grand Jury Prize Documentary went to Manda Bala (Send A Bullet) - a documentary equating political corruption in Brazil with street-level violence in Rio. Triumphing in the World Cinema Dramatic and Documentary sections were Sweet Mud (Adama Meshugaat) - a drama about a boy taking care of his mentally ill mum in a Kibbutz - and Enemies Of Happiness (Vores Lykkes Fjender) - about the Afghanistani women redefining a country. Audience Awards went to Grace Is Gone, In The Shadow Of The Moon, Hear And Now and Once.
View Films by Strand:
View previous years coverage of the Sundance Film Festival festival:
Sundance Latest Reviews
Sundance Film Festival Features
Sundance Film Festival News