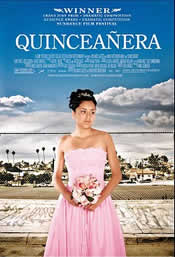 Echo Park, LA won both the Dramatic and Audience Awards
A good year for festival hits, one film that certainly made it big on the world stage after premiering at Sundance 2006, was Little Miss Sunshine. Of the homegrown films Quinceañera - about Latino kids coming of age in LA - took home the Grand Jury Dramatic Prize, while Sudanese documentary God Grew Tired Of Us, won the Grand Jury Documentary Prize, they also scooped both domestic Audience Awards.
Winners of the International competitions were sinister noir Tzameti (Dramatic) and Mexican documentary focussing on freeway builders In The Pit (Documentary). Audience Awards went to De Nadie - a documentary focussing on Mexican migration to the US - and No.2 - about a matriarch organising a family feast at which to announce her successor.
View Films by Strand:
View previous years coverage of the Sundance Film Festival festival:
Sundance Latest Reviews
Sundance Film Festival Features