Eye For Film >> Movies >> Corman's World: Exploits Of A Hollywood Rebel (2011) Film Review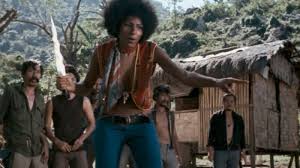 Meet Roger Corman in all his contradictions in this captivating and informative lifetime-in-the-making documentary. Director Alex Stapleton brought together a wide range of collaborators from the film industry to share their experiences with the eloquent, irreverent man, the infernal filmmaker, the rebel in a button-down in a series of first-person accounts.
We learn why "a monster should kill someone fairly early on", how Corman met Jack Nicholson in acting class, how he invented the "teenager", made the first integration movie with William Shatner and had his life threatened, and brought the films of Kurosawa, Bergman, Truffaut, and Fellini to American audiences. "Bergman and the other directors were very pleased," Corman says with a smile.
Corman's entrance into the movie world was as a reader for Fox. He was the youngest, and was given the worst scripts, which he rejected. The first script he recommended, eventually turned into the successful The Gunfighter (1950) with Gregory Peck. Corman received no recognition for his extensive notes which were used in the making of the film and for which, in fact, others received praise. Corman quit. Swinging from one extreme to the other like a pendulum, the documentary takes on the challenge of showing us the rebel with a cause.
One of the most important recollections, is a look back at the making of The Intruder (1962), Corman's favorite film. Exploring segregation in a small town in the South with a pre-Star Trek William Shatner in the lead, this extraordinary film became a "wonderful financial failure," says Corman's brother and co-producer Gene. It was the only film they ever lost money on.
Jonathan Demme, who was a writer for Corman, explains what "exploitation movies" mean and Ron Howard walks around a cemetery, reminiscing about his experiences directing the car chase movie Grand Theft Auto (1977). Demme never missed a Corman-made Poe movie. Altogether he made six Edgar Allan Poe films and we learn that The Tomb Of Ligea (1964) with Vincent Price is Martin Scorsese's favorite. Jack Nicholson recounts Corman's unorthodox methods: When the set for The Raven (1963) wasn't used for a weekend, Corman, as producer and director, decided to quickly film another movie with the same set. "To this day, no one knows the plot to The Terror," (1963) Nicholson shakes his head about the convoluted script.
Bruce Dern, the ultimate insightful barber shop gossip, while getting a haircut, explains the beginning of guerrilla filmmaking and we see how Wild Angels (1966), his biggest success at the time, and The Trip (1967) became the precursor to Easy Rider (1969), which not only made Jack Nicholson feel like a movie star at Cannes, but also was the beginning of a new Hollywood. Nicholson, a writer for The Trip, is very frank about owing his career to Corman and summarizes his LSD research in a question: "Do you want to confront the face of god for fun?"
Stapleton, in a non-intrusive way, combines interviews with admiring filmmakers and relevant clips. Corman was "fueled by outwitting authority", Frances Doel, writer of Dinoshark (2010) and long-time collaborator, explains why he created New World Pictures.
Martin Scorsese sheepishly talks about the 500 drawings he made for his directorial debut, Boxcar Bertha (1972), which Corman produced and how he first brought Mean Streets (1973) to Roger. "Can you make it black?", Corman suggested, according to a laughing Scorsese, who refused to change the Little Italy he knew so well.
Corman's honesty throughout his career in the interviews presented, is inspiring, for example when he speaks about how Steven Spielberg's Jaws (1975) and George Lucas' Star Wars (1977) changed the movie industry forever and co-opted his box office market: "This is a threat to me - very difficult for us to compete". When major studios set the bar for entertainment like this, everything shifts. "For $30 million you can rebuild a portion of the slums of a city," Corman comments. When asked by his interviewer from the 70s, Tom Snyder, if he thinks this development is obscene, his response is clear. "Yes, I would use that word."
Roger Corman's version of the American Dream, about reinvention, is at the center of this well-made documentary. "Keep gambling, keep taking chances" is Corman's advice. We even see Jack Nicholson take a moment to compose himself as the fond memories of their personal and working relationship overwhelm him.
John Sayles talks about how Corman could have made Lawrence of Arabia without leaving the tent, Peter Bogdanovic and his ex-wife were assistants on The Wild Angels and he was given the task to add women without speaking lines into The Gill Women Of Venus and ended up adding unique "telepathic dialogue" after all. Pam Grier and Robert De Niro, among others, speak about their personal reflections in this well-edited tribute. Just like a "slightly imperfect tie is perfect", so is this documentary.
Or, as his wife and producing partner Julie Corman, says: "There's an Arab maxim - The dogs bark, but the caravan moves on. And this is Roger to me, as the caravan. Roger is the caravan."
Reviewed on: 19 Feb 2012
Share this with others on...