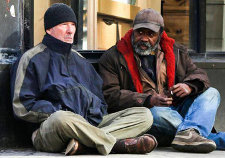 Richard Gere in Time Out Of Mind
Celebrating its 50th anniversary in 2015, the Karlovy Vary International Film Festival is now the single most important event on the Eastern European film calendar. Guests including Richard Gere, Harvey Keitel and Jamie Dornan were in the spa town to enjoy seven world premières and six international premières, including Marcin Koszałka's The Red Spider and Dietrich Brüggemann's Heil.
The festival runs from 3 to 11 July.
View Films by Strand:
View previous years coverage of the Karlovy Vary International Film Festival festival:
Karlovy Latest Reviews
Karlovy Vary International Film Festival Features
Karlovy Vary International Film Festival News