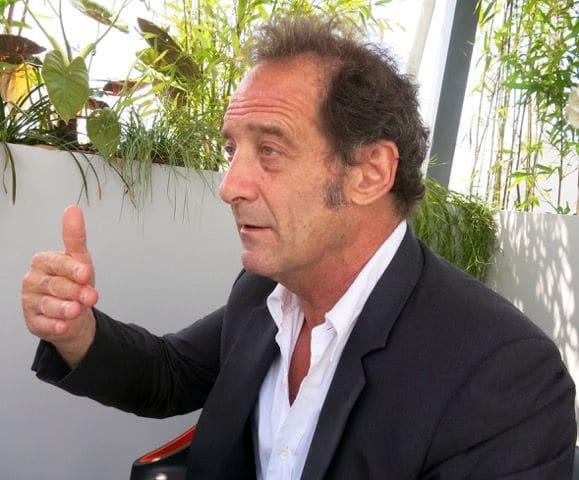 Vincent Lindon: ""I will only work if the script is good. I receive propositions every week but I don't do them."
Photo: Richard Mowe
Vincent Lindon, 55, who was named Cannes Best Actor for his role as a jobless security guard in Stephane Brizé's Competition entry The Measure Of A Man (La Loi Du Marché) has found his niche with a series of characters on the edge and a resolute commitment to causes.
He may not seem the most obvious candidate to portray characters in hard-hitting social dramas. Lindon's father was a rich industrialist, and he has never had to struggle to keep body, soul and family together.
His work with Stephane Brizé has brought him his most consistent recognition and accolades, starting with Mademoiselle Chambon in which he played a small town artisan falling in love with his son's primary teacher, continuing through the rigours of A Few Hours Of Spring (Quelques Heures Du Printemps) as an inarticulate truck driver living with his mother, and now The Measure Of A Man as a mechanic on the dole.
RM: What is the appeal of working with a director like Stephane Brizé?
VL: What I like about his films is that you are not told what to think. He shows things the way they are and you have to make up your mind. Films used to be all about escapism but more and more people want to see films about the world they live in – the kind of films made by Ken Loach or the Dardenne Brothers. It is almost as if you have to go to the cinema to get a glimpse of reality because when you see the news on television it is too concentrated to take in.
RM: Are you attracted to scripts that have a social message?
VL: I am not a hero, I just make movies. When you have a certain level of fame in France you get offered a lot of scripts in the same vein. People see you in one film and you get sent a whole lot of similar parts. It is a normal reflex reaction. In my generation there are three or four actors who read everything – Vincent Cassel is another in the same bracket. I pick and choose – I don't have a luxurious life-style to sustain – I lead a simple life. There is no secretary or manager, no limo with smoked glass and no chateau – just my scooter and flat in Paris.
RM: Can your work make a difference?
VL: When I did Welcome, about illegal immigrants, there was an amendment to the law passed shortly thereafter, and after A Few Hours Of Spring there was change in the law to ensure dignified death. There you have two films and two laws – that is my way of protesting.
RM: What technique does Brizé use to help his actors, many of whom are not professionals?
Vincent Lindon as Thierry in The Measure Of A Man: "Thierry is courageous because he shows great restraint when he has to suffer the indignities thrust upon him."
VL: You would react the way the characters would in real life. He allows you the time to do that. I know professionals who are not at all professional and I know amateurs who are as good as some professionals. My character Thierry is courageous because he shows great restraint when he has to suffer the indignities thrust upon him. He demonstrates he cares about his family by actions rather than words. I am a great observer and often I will use that material I gather along the way as part of a character. I never discuss the psychological aspect of a script, or its meaning. What matters to me is whether it is a good script and if it is precise. The only case where would I interfere is where I don't buy in to the premise of the story. Claude Sautet, with whom I made one film, told me that at the end of the day actors are always right. They have the sense of what would work or not. Directors should allow actors to speak their mind. I like directors who are able to sense that an actor has something to say and has a feeling about a particular scene and usually he will be spot-on.
RM: Do you appreciate building relationships with particular directors and keeping working with them?
VL: Yes, of course, but it is because they want to work with me again rather than me taking the initiative. I love to build a friendship on the set and to do two or three films together or more. With Pierre Jolivet I have worked five times and with Coline Serreau three times. A lot of actors are doing that look at DeNiro with Scorsese who have teamed nine times and Depardieu and Blier it was six times. Between those friendships there are always new people coming in such as Stephane.
RM: Do you harbour any Hollywood dreams?
VL: What would I do there for eight months – play a bad guy with gold teeth and an awful French accent? By the time I came back to France they would have forgotten who I am. I might be tempted to try directing but much later on … when I have lost all my hair.
RM: Now you have your Best Actor award, what is next?
VL: I don't know what I am going to do now. I have read a few scripts but what I need is the desire – and you cannot buy that or prepare for it. It will just hit you. There was one film I desperately wanted to do for a long time – but then ten days ago it all folded. I simply sit and wait for roles to come along and if they appeal to me then great. I do not say I want to do a comedy or a thriller or a psychological movie, I just want to do an interesting script and one that I like.
I will only work if the script is good. I receive propositions every week but I don't do them. If I wanted I could work all the time and be much richer than I am and, believe me, I am not rich. I want to sleep with an untroubled conscience. I only care about doing worthwhile work and the only opinion I listen to is my own. The beginning of the downfall of an artist is when he starts to listen to everyone else rather than himself.
Share this with others on...