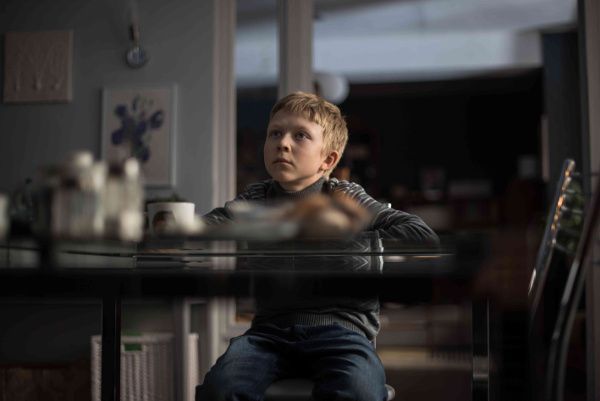 Stars of Gaspar Noé's Love, Aomi Muyock and Klara Kristin in Cannes.
Photo: Richard Mowe
Gaspar Noé is no stranger to controversy - and neither is
Cannes Film Festival
. Surrounded by hardcore hype, Noé who made
Irreversible
, with Monica Bellucci in an extended rape scene, as well as
Enter The Void
, now offers
Love
- in graphic 3D.
He has been talking for years about making a porn film that is also romantic and embraces sexuality in all its myriad guises and this would appear to be it.
It premiered at a packed midnight screening last night in the Grand Theatre Lumière and was unveiled to the media earlier today (May 21) to a mixture of boos and mild appreciation from some quarters.
Love director Gaspar Noé: "Sex is present in everyone's life whatever their preferences"
Photo: Richard Mowe
It has no star names - American actor Karl Glusman plays the young American involved in intense affairs with Electra (Aomi Muyock) and Omi (Klara Kristin) and gets it together for a threesome. Admiration has to be admitted for their stamina.
Noé was stoically unrepentant when he answered media questions. "I am doing a film about life, so why should the sexual aspects, which can be a glorious part of the human condition, not be show. Sex is present in everyone's life whatever their preferences."
Like another shock merchant Lars Von Trier, he declined to say exactly what transpired on set suffice to say: "There is false and there is real." He admitted that he dreamed of making a romantic porno - "after all, everyone likes sex and it is badly represented on screen. As for the 3D, it was toy I had not tried before."
Besides taking you in to the thick of the action, the three-dimensional innovation also gives probably what is cinema's first "in your face ejaculation" and, from my seat close to the front row, I ducked involuntarily.
Love star Karl Glusman in Cannes
Photo: Richard Mowe
His cast were equally non-plussed about the requirements of their roles. Karl Glusman said: "On the first day of the shoot there was a long close-up on my private parts and I thought of trying to escape back to the States, which would have marked the end of a short career. But soon even with two cameras swirling around I felt pretty free." He noted that his mother was proud of the film, especially its screenings in Cannes.
Klara Kristin recalled that when she was younger "I had complexes about showing my body. Then I was like what the heck …" Noé confirmed that his actors had "the courage to embrace the experience and were not intimidated".
The film is due for a release in France, in July, with an over 16 age restriction and it has been bought for a UK release by Curzon Artificial Eye but has yet to be submitted the British Board of Film Classification. It will also receive a release in the States and as its distributor Alchemy is not an MPAA signatory, it does not need to secure a rating. More than 30 countries have bought the title. "There is nothing bad in the film," said Noé.
One of the film's teaser posters has a woman's hand wrapped around a penis with the tagline: Coming Soon.
Share this with others on...