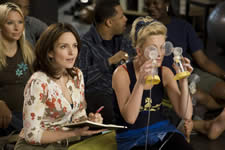 Baby Mama opened the 2008 Tribeca Film Festival
The Tribeca Film Festival was founded in 2002 by Robert De Niro, Jane Rosenthal, and Craig Hatkoff after the attacks on the World Trade Center "to help economically and culturally revitalise Lower Manhattan through an annual celebration of film, music, and culture."
Now in its seventh year, it has expanded to include additional venues across Manhattan. It has reduced its slate this year, to show 122 films from 31 countries.
Winners included Let The Right One In, Somers Town and Pray The Devil Back To Hell.
View Films by Strand:
View previous years coverage of the Tribeca Film Festival festival:
Tribeca Latest Reviews
Tribeca Film Festival Features
Tribeca Film Festival News