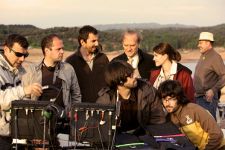 From left to right:Lício Marcos de Oliveira (sound), Rodrigo Sopeña, Santi Millán, Luis Piedrahita, Lluís Homar, Elena Ballesteros,DP Migue Amoedo and Santos Sánchez (wardrobe) shooting Fermat's Room
Fermat's Room (La Habitación De Fermat) – out on DVD in the UK now – may mark the feature debut of co-directors Luis Piedrahita and Rodrigo Sopeña but the pair have been working together on television for well over a decade. It seems fitting that the show they are most known for to Spanish audiences is magic series Nada x Aqui, since in Fermat's Room, they have plenty of tricks up their sleeves. The film takes a deceptively simple plot – four mathematicians trapped in a shrinking room from which they must try to escape while also discovering why they have been targeted – and twists the tension tight.
"Making suspense plots or mystery plots and making magic are very similar because you have to hide the clues and you have to pretend to be natural but you are sowing something that's going to be interesting at the end," says Luis. "The construction of the tale, doing a magic trick and making a mystery plot, the structure is very similar, because both of them need an amazing ending. The magic needs people gasping at the end. In a suspense plot you need exactly the same."
But Luis adds that the best trick of all was devising a premise that would work on a budget of less than a million euros.
"We had no money, so we had to come up with the cheapest tale we could. We began with four actors in one room – you can't find anything cheaper. So we created this story of the mathematicians that go to that room but we needed to have the most interesting room possible. So we had the idea of a shrinking room and built the mystery plot."
So armed with a small wad of cash and a hermetically sealed plot, it was a case of shooting things as quickly as possible.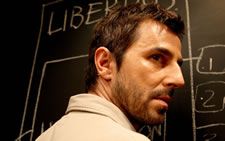 "It was a world record," claims Luis, "because, from the first time we said: 'Action' on the set to the premiere in Sitges, that was only 24 weeks. For the whole movie, not only the shooting but all the post-production, editing, music, soundtrack post-production – everything was in 24 weeks."
It may well have come in on a cheaper budget than most, but that didn't mean that it was technically easy to shoot. Although the room is initially standard size, a PDA parlour game turns into something much more sinister and it isn't long before the walls are closing in.
"It was very difficult for the actors and it was very difficult for us and for the production team because in all the shots that the walls need to be moving, they were really moving.
"And the most difficult thing is that when you move one of the walls, you need to move the four of them, because the machine they built meant that we couldn't move only one wall. So that made it nearly impossible to shoot inside the room because all of the cameras, the tripods, the spotlights moved with the walls.
"When they began to move, they pushed the cameras, the cameraman, the camera crew and when we had to retake a scene we had to open up the room, put everything back again in its place, including the spotlights and cameras and everything and it was very very difficult for us."
And shooting within the room wasn't just a tricky ask for the crew, the actors also found that scrabbling about in a mess of splintered furniture was no easy task – although it if accidents will happen, there's no sense in wasting them.
"It was really dangerous shooting there. Because at the very beginning it was a regular room but by the end of the movie the room was small, with lots of broken pieces on the floor and the actors had to walk over the mountain of rubbish.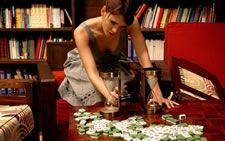 "So sometimes they would step in holes and drop into the rubbish. We had a dangerous accident with Elena [Ballesteros] in one scene she stepped in the wrong place and she disappeared into the mountain and we had a camera giving us that shot. So, we had the moment where she goes 'whoooo' down and it was horrible because you can see her face and her shouting… but it was so terrible and so terrific that we used that. There is one moment when you see her shouting and that is a real moment when she disappeared into the pieces.
"I think it's in the trailer," Luis adds, laughing.
You'd think that the speed of the production is down to the directors' familiarity with TV schedules, but Luis says that a background on the box brings an even more important talent to the mix.
" You are right, in TV you have to work very quick, but I think the most interesting thing is that when you work on TV, you work for the audience and the next day, you have your 'qualifications' on the computer – you have your rating and your [market] share. And you have to have the audience in your mind – don't forget about them. And we made a movie that tries to capture the attention of the audience without stopping."
The film made nearly $1 million at the Spanish box office and has gone on to be shown in more than 50 countries, all of which means Luis and Rodrigo's creative talents are in demand. Luis says that they've been working together for more than 12 years, since they were at university.
"We have the same sense of humour and we like the same kind of stories, so when we write together we know what kind of movie we are looking for, so when we find it, we know it at the same time," he says.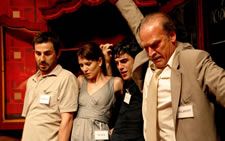 Reading some of the reviews on the web, you could be forgiven for thinking that Fermat's Room was some kind of horror film Saw-style, but, in fact, it owes much more to mystery and suspense plots of a bygone era than anything visceral or in your face.
"We wanted to make a film like [Joseph L] Mankiewicz or Dial M For Murder, all those sorts of movies that had a kind of riddle or a puzzle," says Luis "We are completely fans of Agatha Christie."
Now the duo are turning their thoughts to family film, penning a script for the recently founded Ilion Animation Studios – whose first feature, Planet 51, is due for release later this year.
Details of that are shrouded in secrecy clauses but Luis also reveals that the pair have just finished writing their second film, which they are hoping to shoot either in November or at the beginning of 2010.
"I can tell you everything about that one," he says.
"It has some similarities to Fermat's Room because it is filmed with a small number of characters in one small place and it is a witty plot with twists and turns and it's a heist movie. It's a bank robbery with no guns, no weapons and I think it's interesting.
"We have a current title – Golpe De Efecto it has two different meanings in Spanish. Golpe means means something like 'hit' but it also means something like a 'heist'. Efecto is a visual effect, but when you say it all together, it is like a 'smashing moment' where you say, 'What just happened?' I don't know how to explain all the meanings that the title has."
Fermat's Room is out to own on Revolver Entertainment DVD now visit the official site for more information.
Share this with others on...