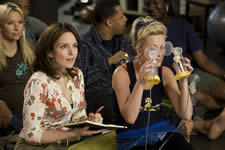 Tina Fey and Amy Poehler in the film
The Tribeca Film Festival and Universal Pictures today announced that Baby Mama, written and directed by first-time feature filmmaker Michael McCullers, will have its world premiere as the opening night film of the New York festival.
The comedy teams Amy Poehler and Tina Fey team with writer/director McCullers and producers Lorne Michaels and John Goldwyn to tell the story of two women, one apartment and the nine months that will change their lives.
Producer Lorne Michaels said: "It's an honor for Baby Mama to open The Tribeca Film Festival. We all live and work in New York City, so there is no way we will not get to the premiere on time."
Baby Mama, filmed primarily in New York, is the directorial debut of former Saturday Night Live writer Michael McCullers. Greg Kinnear, Dax Shepard, Romany Malco, Maura Tierney, Holland Taylor and Sigourney Weaver also feature in the film, which premieres on April 23.
Successful and single businesswoman Kate Holbrook (Fey) has long put her career ahead of a personal life. Now 37, she's finally determined to have a kid on her own. But her plan is thrown a curve ball after she discovers she has only a million-to-one chance of getting pregnant. Undaunted, the driven Kate allows South Philly working girl Angie Ostrowiski (Poehler) to become her unlikely surrogate.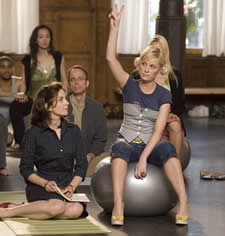 Amy Poehler, right, is a surrogate for Tina Fey
After learning from the steely head (Weaver) of their surrogacy center that Angie is pregnant, Kate goes into precision nesting mode: reading childcare books, baby-proofing the apartment and researching top pre-schools. But the executive's well-organized strategy is turned upside down when her Baby Mama shows up at her doorstep with no place to live.
Tribeca Film Festival co-founder Jane Rosenthal said: "As a film festival with a true commitment to New York City and its film community, what better way to open this year's festival than with a New York production that brings together some of the city's most beloved and creative talent?
"The creators of this film, both in front of the camera and behind, have been making audiences laugh for years. We look forward to celebrating this crowd-pleasing comedy with our long time collaborators at Universal."
The 2008 Tribeca Film Festival will announce its primary film slate on March 11, March 13 and March 17 - we'll be bringing you all the news about it on Eye For Film, plus look for reviews during the festival itself.
Share this with others on...