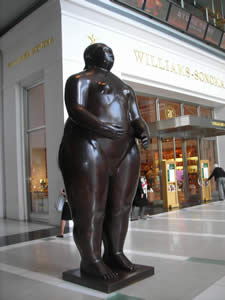 Any similarity to people living, dead or journalistic is entirely coincidental.
Going to festivals is never a predictable experience, but even I have to admit that today has been a little 'out there'. I requested an interview with Indie legend Melvin Van Peebles a couple of days ago, fully expecting to have to submit questions by email. You can imagine my surprise then, when his publicist calls me and invites me to interview MVP at his own apartment in Manhattan. This sort of thing, one imagines, never happens. But, sure enough, it did, so I find myself languishing by a statue of an obese woman in the Time Warner building waiting for his publicist, Ric. I don't stand too close to the woman, pictured, since I fear that I may draw comparisons. I'm also slightly disturbed to note that her equally naked male cohort is sporting a very shiny looking appendage - goodness only knows what sort of luck people are hoping to inspire by touching that.
We head up to Melvin's apartment which is, as I had hoped in previous diary entries, suitably avant garde. He has pieces of his own art on several walls and the floor, including a gigantic frankenfurter in a bun, used as a filing cabinet of sorts - we debate the name frankenfile, filenfurter at a later moment - plus the back of the VW camper van I mentioned previously. They are, like his most recent film, quirky and playful - particularly a fireplace which glows and crackles if you rub your hands in front of it. What more can you want?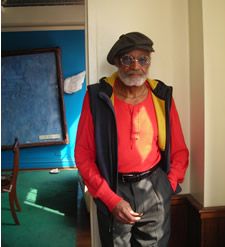 My host with the most, Melvin Van Peebles, with one of his pieces of art in the background
"When I arrive he is working with "Spaceman" - a musical whizz - on a soundtrack version of the film. I get to sit in as they work through some stuff, which is interesting. Then, it's more or less on with the interview, although it really turns into more of a chat. It emerges that, unsurprisingly, the director is both charming and incredibly at ease with himself and his career. I'll be bringing you the feature later, so I don't want to spoil the surprises... which, it turns out, he is brimful of.
In fact, we hit it off so well, he asks me to give him a bell if I find myself at a loose end later in the week. I don't think it's likely but say thank you all the same and head off, slightly hyper after the surreality of it all, to a local bar.
The film I saw at the beginning of the day - The Secret Of The Grain (to be released in the UK later this year as Couscous) - pales into comparison with the rest of the day's events, really, but it is an interesting, if rather too long watch. Concerning a family of Arab immigrants in France, it centres on the trials and tribulations of the patriarch, trying to start up a couscous restaurant after being laid off from a shipyard. The overwrought situations of everyday family life are very well captured - from the mum trying to potty train, to the wife coping with an adulterous spouse. The only problem is the runtime, with several scenes running way past their usefulness.
Day nine, and if yesterday with surreal, today has bought the melting watch and a tree to hang it from. I head into the screening room early to discover that the winners of the jury prizes have been released - you can read about them here - so I decide I'll try to see the documentary winner Old Man Bebo. But first I check out The Aquarium. It's a very experimental look at life in modern Cairo, as seen through the eyes of an anaesthetist, Youseff, with a sick father, and a late night talk radio host, Leila. Frequently breaking the third wall, with actors commenting on the action, it is not the easiest of watches, but deals with issues of sexual repression and the idea of being a watcher rather than a doer. It's all rather more of an intellectual discussion rather than an engaging film, however, and its hard to sustain my attention.
In fact, I get distracted fairly early on by a piece of voicemail... from Melvin Van Peebles. We've struck up something of a rapport, so when he invites me to fetch over my "typewriter" and do some work at his place, I'm more than happy to oblige. While I'm there I get quite a lot of stuff done - though I suspect it's the first time I've written about anyone's work while actually sitting in their house (I wonder if Uwe Boll has ever considered adopting this approach with critics). While I'm there I meet filmmaker Alrick Brown, who gives me a disc of his films, so that'll be something to keep me out of mischief when I get back to the UK. Melvin very kindly invites me to come to the screening of his film - and to join him and his other guest for dinner - so that's the evening sewn up.
It's nice to see Confessionsofa on the big screen, as I suspected, it does add another dimension and gives you more opportunity to admire the technical skill on display. I also note he's used his house incredibly cleverly to double up as bits of set.
There is a brief Q&A afterwards but the highlight of the evening for the five of us who later head to a bar, is that we all - including septuagenarian Melvin and his sixtysomething pal Richard Milner - are carded by the barmaid. She says, with not a trace of irony that "many folk dress up to look older". I wonder whether she thinks Melvin is wearing a false beard attached to his glasses, but since we're all enjoying the idea of being too young to drink, we don't ask.
It crosses my mind that you may be thinking that I'm making this up. I'm not. Oh, and the dog fashion, du jour is a pekingese spotted in a pink jacket with diamante heart.
Share this with others on...