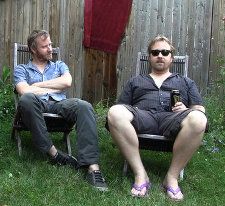 Mistaken For Strangers will open the 2013 edition of Tribeca Film Festival
The Tribeca Film Festival was founded by Robert De Niro, Jane Rosenthal and Craig Hatkoff in 2001 following the attacks on the World Trade Center, to spur the economic and cultural revitalisation of the lower Manhattan district through an annual celebration of film, music and culture, the Festival brings the industry and community together around storytelling.
The 12th edition of festival will open on April 17 with Mistaken For Strangers, directed by Tom Berninger, who chronicles his experience on tour with his brother, The National's frontman Matt Berninger.
The festival will screen 89 feature-length films between April 17 and 28.
View Films by Strand:
View previous years coverage of the Tribeca Film Festival festival:
Tribeca Latest Reviews
Tribeca Film Festival Features
Tribeca Film Festival News