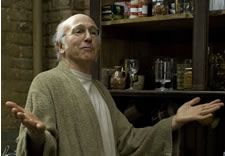 Larry David In Woody Allen's Whatever Works
Whatever Works, Woody Allen's first film to be shot in New York since 2004, will get a fitting homecoming when it has its world premiere at the Tribeca Film Festival.
The film will screen on the opening night of the festival April 22.
Whatever Works stars Larry David, Evan Rachel Wood, Patricia Clarkson and Ed Begley Jr.
Woody Allen welcomed the "lovely idea of showing my film in a film festival in my own city".
Festival co-founder Jane Rosenthal added: "I fell in love with New York through Woody Allen's movies and I am excited we are opening this year's Festival with Sony Pictures Classics for the world premiere of Woody's Whatever Works."
"It is a uniquely funny addition to his body of work."
The 2009 Tribeca Film Festival will announce its feature film slate on March 9 and 11, 2009 - when we will be bringing you it in full. In the meantime, why not read about the films that screened last year?
Share this with others on...