Director Brian Hecker on-set with William H Macy
Warm-hearted teenage prom comedy Bart Got A Room caused a barrel-load of buzz when it premiered at last year's Tribeca Film Festival, where, as its director Brian Hecker points out, it "sold out faster than Speed Racer". The film, about a teenager called Danny's increasingly desperate attempts to find a prom date, will finally open in selected US venues – in south Florida, New York and LA on April 3 – and those of us in the UK who had the pleasure of seeing it either at Tribeca or, when it had its UK premiere at Glasgow Film Festival last month, can only hope distributors this side of the pond will follow suit.
The year-long creep from festival to mainstream is just another step in a waiting game which has been playing out for Brian since he conceived the film more than a decade ago. When asked about the wait, he laughs and insists he'll "try to be as quick as possible" in the retelling.
"I did a short film called Prom Pudendum at the American Film Institute, which was actually an eight-minute version of the feature film. It was basically just about this poor boy getting rejected for the prom – which is, unfortunately, based on my own miserable existence growing up in south Florida. I asked a professor one summer if he could get me a production assistant's job and he said, 'A PA job? Let's get you a writing/directing deal', and that started a 10-year journey.
Self-deprecating references to his, allegedly, nerdy teenage years abound as Brian talks about the film, but whatever his failings there is no doubt the man has staying power. After pitching a version of the short film he ended up selling the idea to Universal Studios.
"Sid Scheinberg – who originally discovered Steven Spielberg, that's his claim to fame – bought the project and I wrote it for them," he says. "They eventually put it into turnaround [where the rights to a project are sold from one studio to another in exchange for the cost of development] and I was still a student at the American Film Institute. After I completed my thesis film [Family Attraction] with Chris Penn and Martin Sheen, then Miramax came in, saw the short and bought the project from Universal and they paid me to redevelop it… and that took a couple of years.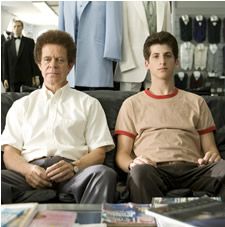 William H Macy and Steven Kaplan
"They ended up putting it in turnaround and then I had to shop it around to find a production company that was going to basically buy it from Miramax now that there was all this money against it. I found this fantastic company in New York, called Plum Pictures, three young women who are very tenacious, and they asked me who was my top choice to play the father and I said William H Macy was on top of my list. And William H Macy, a really generous, selfless guy, he loved the project and then we were off and running."
Macy's turn as the lead character's father – recently divorced from his mum and trying to make his own tentative steps back into the world of dating – is inspired. Brian insists that it was Macy - sporting a curly 'jew-fro' wig to complement his unique brand of hangdog charm - that led to such a run on the tickets at Tribeca.
"We sold-out four screenings within five minutes of the tickets going on sale, just, I guess, because of the pictures of William H Macy with the curly hair. People flocked to this movie. We had to have a fifth screening and the fifth screening had 950 seats in it. It was at an auditorium at a community college and that sold out. At the red carpet event, with William H Macy on one side and Chery Hines on the other and the media covering it, it felt like being on ecstasy, though, of course, without being on ecstasy."
It seems that just as with finding a prom date, it's persistence that tends to pay off in the Hollywood bubble.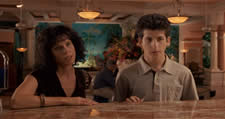 Cheryly Hines and Steven Kaplan
"You need to have three ingredients to get to the finish line. A third of it is talent, a third of it is knowing how to communicate and be passionate and understanding how to balance egos and then the final third is some sort of obsessive tenacity and determination, just like a relentless pursuit that you will never give up.
"Garry Marshall, the director, spoke at my graduation at Northwestern University [in Evanston, Chicago] and he said, 'There's two types of people in Hollywood: those that make it and those that give up.'"
The result should give hope to struggling filmmakers everywhere and they can also take heart from the fact this is not another sex-orientated Judd Apatow-style comedy. Brian's film, instead, harks back to movies of the Eighties, such as Ferris Bueller's Day Off, a feel that he says he deliberately tried to create.
"In my head I always had this thought of wanting to do a John Hughes movie with a Woody Allen flair," he says. "Woody Allen has never done a teen movie, and, I thought, well, how would Woody Allen do a teen movie. And the environment I grew up in, in Hollywood [Florida], certainly lends itself to that kind of tone, with the senior citizens everywhere, it feels very dated, it's stuck in an old time and place.
"It's like the most un-hip environment that a kid can grow up in, with the pastel colours, with the big, puffy white clouds, the golf courses and golf carts and egrets and lizards it was definitely my intention to give it a dated quality and to have Danny be this victim of this very unfortunate environment."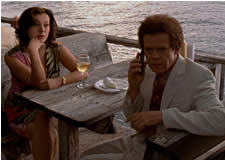 Jennifer Tilly and William H Macy
The central character, Danny – played by newcomer Steven Kaplan – is largely based on Brian's own experiences as a teenager and he also drew inspiration for his parents (played by Macy and Curb Your Enthusiasm's Cheryl Hines) from his own mum and dad.
"I definitely portryed all the embarrassing quirks of my parents," he admits. "But, at the end of the day, the movie is really and truly a love letter to them. They, in the movie, come across as the heroes of the film. I have such a great relationship with them and they have such a good sense of humour that, of course, they're charmed and thrilled and excited."
The film is as much about friendships as it is about romance, a fact that Brian says was important when he was writing the script. He says he also wanted to expose the absurdity inherent in the prom as people become stressed out when they start comparing themselves to others.
"Bart is this invisible entity, this calculated tactic to expose our attachments to these illusory concepts and arbitrary desires that just don't have any truth to them – it's not real. It's all just stuff to just drive us crazy," he says.
Despite boasting big names in the form of Macy and Hines, Brian fought to keep a comparative unknown in the role of Danny.
"There was a lot of pressure from the producers for me to cast a known actor, like an actor from the OC or one of those popular television shows. But, you know, I didn't suffer in high school to have some really, really cool, slick good looking kid play me. There was no way that I would cast a kid who would be having girls in his trailer. No way was that going to be happening.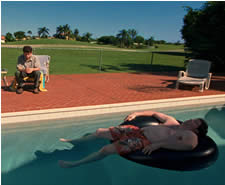 Steven Kaplan and Brandon Hardesty
"It's funny when I did cast Steven Kaplan, he started telling me a story about an ex-girlfriend and I absolutely had to cut him off because I didn't want to know that he was actually cool and was dating women. I was like, 'Steven, stop...tell me about your dating life after the shoot. I need to see you as the dweeb I was in high school'."
It has been a long journey for Bart to reach cinemas, but Brian is hoping his next project – Atari, a film about Nolan Bushnell, who started the video game revolution in the Seventies – which he is co-writing with Craig Sherman, will have a smoother path
"It's an amazing story," he says "The fastest-growing company in American history started with $500 dollars and within 10 years it became a $2billion company.
"This guy was a real character, he was a prankster, he was very funny, he was a real playboy. He's just an amazing guy. He's 65 now and we had the great fortune of getting to know him, and he's such a cool, hip person who has been through so much in his lifetime and we're so excited to be the ones who are going to present the telling of his story.
"We brought it to Leonardo DiCaprio, he decided to attach himself as a producer and we're writing it currently for Paramount Pictures."
He's hoping the directing reins will go to a big-name helmer this time around but that doesn't mean he's just going to focus on writing in future, since he believes both writing and directing have plenty going for them in different ways.
"Writing is very peaceful," he says "it has a relaxing quality to it – except when you have those imminent deadlines and it gets intense – of course everything is stressful when you have the deadlines. As long as you're disciplined there's something that's really cool about it because you just can sit there and just be by yourself.
"Directing is so energising, and you have to be on your toes. I'm a fast thinker and I love being in that environment, communicating with so many different people and problem solving on a moment to moment basis, there's a real exhilarating quality to that. But they both have their assets."
Whether it's in a writer's garret or the director's chair, we're tipping Brian for big things and Bart Got A Room is a prom date you certainly don't want to miss.
Out April 3
Bart Got A Room will screen in selected venues across the US from April 3, for more information about the film, visit the official site
Share this with others on...