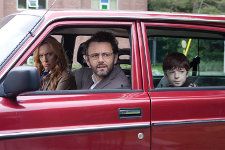 Toni Collette and Michael Sheen in Jesus Henry Christ
Celebrating its 10th year, Tribeca Film Festival has announced a streamlining of it's sections, to feature a new Viewpoints strand, while jettisoning its Encounters and Discovery showcases.
The competition and Viewpoints films have been announced, with the other out-of-competition sections and short films coming soon. The festival will run from April 20 to May 1. It will open a free world premiere screening of Cameron Crowe's The Union.
View Films by Strand:
View previous years coverage of the Tribeca Film Festival festival:
Tribeca Latest Reviews
Tribeca Film Festival Features
Tribeca Film Festival News