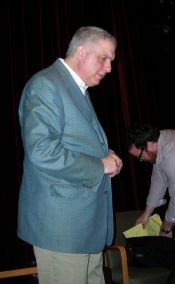 Errol Morris takes questions from his audience
Casting a glance over the viewing for the first day's action at the Tribeca Film Festival, it's clear to see the documentary strand, as with so many festivals these days, promises to be particularly strong. Tribeca has been picking well in this area lately, with recent selections including the Oscar-winning film about US torture practices in places like Guantanamo Bay, Taxi To The Dark Side.
Hoping that this year will be no different, I kick off my festival with Playing (Jogo De Cena) - a Brazilian film directed by Eduardo Coutinho. Coutinho films a series of women recounting their, often traumatic, stories and then got a set of actresses to re-enact the same tales. Playing is the right word, since this quirky film questions how we judge what is real and perceived - who are the actresses and who the genuine women. A fascinating and, for the most part well-delivered idea, although perhaps a little long.
Thankfully, Tribeca seem to have taken onboard feedback from the press last year and all the films are being screened close to the Press Office in the Union Square area of town. This means we're some way from Tribeca itself, however, so it's nice to take a trip down there at lunchtime for a 'meet and greet' session with some of the filmmakers whose work will hopefully make it up onto the big screen in the future. The Tribeca All Access programme, aims to mentor and help filmmakers in a number of ways.
I speak to writer Sharbari Zohra Ahmed about her project in the pipeline, Raisins Not Virgins. Taking its name from a passage in the Koran which has, apparently, been misquoted down the years by the unscrupulous to encourage Jihadists (with the promise of a number of virgins in heaven). Apparently the word for raisins and virgins has just one letter difference and it is the former that was really on offer. Shabari's film - which she promises to be a tale of romantic comedy and jihad - explores the relationship between a young Islamic woman coming to terms with her faith and two men, one a Muslim and the other a Jew.
I'm particularly taken with Sharbari's card which proclaims: "Be realistic: Plan for a miracle" - let's hope she doesn't have to wait around for one of those. If you want to know more, take a look at her blog http://www.sharbari.com/
I also speak to Alka Raghuram about her prospective film The Conqueror. Set in India she says her tale of a boy seeking vengeance and finding something unexpected at a monastery has a fairytale quality. It also sounds as though it touches on epic themes as the boy has to come to terms with his past in order to move forward. You can keep an eye out for what is happening with this one here: http://www.alkaraghuram.com.
Putting a very personal spin on a movie meanwhile is Phillip Van - whose short High Maintenance has been doing the festival rounds to critical acclaim over the past year or so. His latest project Darkland is actually based on the story of his Vietnamese father, and how he came to fall in love with his mother, an American USAID worker - which you can keep track of here http://www.phillipvan.com/. I mention my ongoing annoyance that fellow American/Vietnamese filmmaker Ham Tran's Journey From The Fall, never has seen the light of a European distribution and we talk a little about the particular difficulties those who choose to shoot films in a language other than English, face. Van tells me his film will be in English, so hopefully it will be able to negotiate the tricky waters of development.
Finally, I chat to two documentarians who are currently in the midst of researching and filming their projects. Miao Wang is returning to China for the Olympics this summer to shoot the, hopefully, final reels of her factual fim Beijing Taxi - examining the impact of China's roaring development on its people. You can see the trailer here. Francisco Bello - who received an Oscar nomination for his short Salim Baba - is tackling another film about Chinese workers. His documentary - to be titled Chinese Mona Lisa - takes a look at the practice of producing carbon copies of classic works of art in China and shipping them to collectors worldwide, looking at the conditions, pay and lifestyle of those who put brush to canvas and tracking these artworks as they make their way to their new homes.
It's always fascinating to talk to people about their film 'babies'. We'll certainly be looking forward to watching out for them as they become a reality.
The next film screening of the day was reality with bite. War, Love, God & Madness is a documentary film by Mohamed Al-Daradji, which tells the story of what happened to he and his cast and crew as they tried to shoot his feature film Ahlaam against the backdrop of occupation and insurgency in Post-Saddam Iraq. It is the perfect counterpoint to Ahlaam - which had a brief flurry at arthouses in the UK earlier this year - helping to answer questions posed by that film as regards how they came to achieve the result they did working in the most difficult of circumstances. Al-Daradji's dream is clear to see and he is to be commended on bringing us another excellent film which focusses on the most important aspect of Iraq - its people.
It is certainly a lot more successful than Errol Morris's film Standard Operating Procedure, which I go to see the premiere of this evening. I've written a full review of it here, but suffice to say that although looking glossy it lacks the meat of other films on the subject of Abu Ghraib jail and what went on there. Morris has a Q&A after the film, during which he talks about being an "outraged citizen" - read more of what he said here.
Walking home, I have one of those off-kilter New York moments, that seem to happen from time to time - a near-miss encounter with a bicycle rickshaw, who nearly takes my nose of as he makes a right turn. Justice is served, however, as he careers off the road and up on to the pavement. No one is hurt, thankfully, although the diners sitting out on the street at a corner cafe do get a bit of a shock.
I continue the documentary vein into Friday with War Child - a film about a young Sudanese rapper who is bringing an awareness of the fate of many child soldiers to the world through his songs. Although telling the incredibly grim journey made by Emmanuel Jal from refugee to soldier to slum dweller this is a celebration of his attempts to make a difference in his homeland by focusing his efforts on the children of today. It is hampered slightly be some odd sound effects, but it is a welcome, more hopeful, addition to the growing canon of films about this war-torn nation.
Deciding it's about time I saw a narrative feature I decide to check out War, Inc. - described in the press notes as "audaciously funny and surprisingly poignant". Turns out it is about as audacious as As Time Goes By and as poignant as a slap in the face with a piece of soggy cheese. Not nearly so clever as it thinks it is.
Thank goodness then for Shane Meadows, who returns to Tribeca with his latest film Somers Town - a delightful buddy movie, starring This is England's Thomas Thurgoose as a 16-year-old who runs away from Nottingham to seek his fortune in London and strikes up an offbeat friendship with a Polish teen. Light on its feet and steadfast of heart, it turns out to be a wee gem. Shot, for the most part, in black and white, it also looks great. I'll be speaking to Shane tomorrow [and you can read what he said here].
I wrap up the day with a quick visit to another mixer bash. I end up chatting to Sheena Ackrim a Glasgow-born producer and writer who has several projects in the pipeline, epics "in the style of Braveheart" about Arabic pioneers. One is entitled Shadow King and the other Epic Voyager. Shadow King is a tribute to the life of Imru-al-Qais - the earliest known Arabic poet, exploring his journey to find his soul mate. Meanwhile Epic Voyager tells the story of the travels of Ibn Battuta a Berber whose travels spanned the equivalent of 44 countries. She says she would love Mel Gibson to take a role in one of the films and for Leonardo DiCaprio to star in the other and, with her energy, you never know she just might be able to convince them.
Share this with others on...