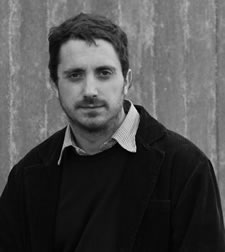 Director Pablo Larraín
Tony Manero is a gritty yet gripping portrayal of Raúl Peralta (Alfredo Castro), a fiftysomething Chilean living under the Pinochet dictatorship in 1978. Despite his ageing years and dicey dancing, Raúl becomes obssessed with the American hit film Saturday Night Fever and, particularly, with John Travolta's central character Tony Manero. Seeing his hero as a means of escape, it becomes clear that Raúl will stop at nothing to realise his dream of being named 'The Chilean Tony Manero' in a TV talent contest. Tony Manero is released in selected cinemas across the UK on April 10 and we caught up with director Pablo Larraín to talk about the film.
Could you tell us a bit about the central character and how you came up with the idea for the film in the first place?
Well, the idea was very simple. It really came through a photograph that I saw from a New York photographer that is an image of a man in his fifties, who is sitting in a coach staring out of the window. I got the book in Spain and went back to Chile and called the actor Alfredo [Castro] and asked him if he would like to make a film from that picture. And he asked me what did I see? I said: 'I see, I don't know why, a murderer who likes to dance.' After that we started building the idea of somebody who follows an icon and then we got to Saturday Night Fever and realised that it was released in 1978, so we had a political context.
What we wanted to do was to create a character that is not so clear for the audience – in terms of whether you like them or not. You usually see in films that the people who create them are trying to tell us what to think or feel for the characters; the ethical decision is already made by the people who wrote the film. We didn't want to do that, we tried to make the audience form their own opinion and you do that by putting a character in a place that's not very clear. The main thing I can do as a director is try not to judge him and try to make the audience not judge him.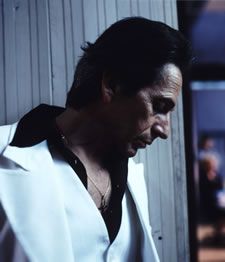 Alfredo Castro as Raúl
It's almost as though he is a product of a society where he is living that is amoral. You show the Pinochet troops who are acting in an amoral way, chasing down people who are against the government.
I totally agree, this is a lack of morality instead of someone who is fighting against a certain kind of morality. You see in the film, the police are coming down on the people who think differently and they don't do anything to the guy who is really killing people. Basically, it's confusion. For us, the main concept is the senselessness of everything - things that have no sense and at the same time are extreme. You want to build an atmosphere that is extreme, so that you, as an audience, haven't been there before [so you think]: 'What is this? What is this guy doing? Who are these people?' It is not just the story, it is the atmosphere, something that gets into you through your skin more than through your brain.
It reminded me of early Martin Scorsese, because of the unflinching way you were looking at a character but you weren't judging them, you were just saying: 'This is this man and this is his life.'
We could say that and we could also talk about the film that Werner Herzog did with Klaus Kinski. Why does a guy want to build an opera house in the middle of the jungle in Fitzcarraldo? It's a European in South America, so it is human behaviour that is hard to explain – and you don't want to explain it. You don't want to be preachy here, telling people what to think, just show something.
Obviously, the casting of the central role was incredibly important. Was it a big collaborative effort between you and Alfredo Castro?
Yes, of course. He taught me in drama school, so we are very close. What he did in the film is sensational, in my opinion. He was involved in the script so it was a very strong collaboration.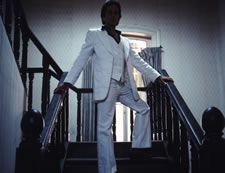 Raúl wants to be a working class hero
The film is so focussed on him the whole time and he doesn't give the character any redeeming features, which is great. He wants to become this John Travolta character but at the same time he doesn't change at all, he is what he is.
He doesn't change. That's where the mistake comes. It's a whole bunch of mistakes one after the other. He thinks the story of this working class hero who gets success by dancing is a possibility for him. He forgets that he is 30 years older, that he doesn't look or dance like John Travolta and, the most important thing, that he is in Chile in the middle of a very violent, destructive dictatorship instead of being in a capitalist country like the United States. When you take something that is foreign and you push it into your own culture, there's a moment where nothing seems to be right.
Although he is obsessed with the Tony Manero character, when he is relaxing, he is tending to listen to the music of his own country?
That's a record that was also inspired by the film, it's a band called Frecuencia Mod, like FM on the radio. It's interesting because there are some songs on their album that combine disco music with folk music from my country. So it's a huge mixed up thing. You remember when the character in the film is dancing by himself in the room and he turns the light off and the floor on? He does Chilean dances – so this confusion, this distortion is also in the dance and in the music and in the way he speaks Spanish and then he also speaks words from Saturday Night Fever. What I found interesting is what happens to him and his perception.
Santiago is quite modern these days, so how hard was it to find places to shoot that looked like the city did in 1978?
We had to build some places and we used some others that were still looking like those days. We had to erase a lot of advertising and buildings. But it wasn't that hard because even though the image of Chile is of a very modern country – which is right, it's a very stable society and a strong economy – there are still some parts of it that haven't changed very much, so we were able to do it.
Chile is a very different place today than it was in 1978. Do you think the film has a resonance with Chile today as well as the Chile of the past?
Of course. We wanted to show when all this began. We are now in a situation that has a beginning, you know. For me the most important sign of the 'beginning' was those years when the government started to enforce this economic and social system and they did it from one day to the next and that provoked a shock.
Are you working on any new projects?
We're shooting soon. I'm also shooting with Alfredo. It's a love story. We're looking for a name.
Share this with others on...