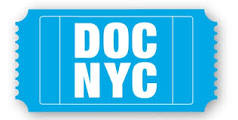 View other DOC NYC Films by strand: Arts & Design, Coming Of Age, Fight The Power, Focus: Journalists, International Competition, Luminaries, Metropolis Competition, Personal Journies, Photography & Film, Portraits, Short List: Features, Sonic Cinema, Special Events, Sports, US Competition, Voices Of Canada, Winners' Circle
Cow
(Country: UK; Year: 2021; Director: Andrea Arnold)
A close-up portrait of the daily lives of two cows.
Edna
(Country: Brazil; Year: 2021; Director: Eryk Rocha; Writer: Gabriela Carneiro da Cunha; Stars: Edna Rodrigues de Souza)
On the edge of the Transbrasiliana highway, Edna lives in a land in ruins, built on massacres. Edna weaves her memories into the narrative through her diary, entitled "Story of My Life," reflecting on the life of guerrillas, the disappeared, deforestation, and survival.
Invisible Demons
(Country: India, Finland, Germany; Year: 2021; Director: Rahul Jain; Writer: Yaël Bitton, Rahul Jain, Iikka Vehkalahti)
In the sprawling mega city of Delhi where the dangers of climate change are present not future, the film shows a world on the brink.
The Man Who Paints Water Drops (L'homme qui peint des gouttes d'eau)
(Country: France, South Korea; Year: 2021; Director: Brigitte Bouillot, Oan Kim; Stars: Tschang-Yeul Kim)
Profile of the late artist Kim Tschang-yeul.
Nothing But The Sun
(Country: Switzerland, Paraguay, Argentina; Year: 2020; Director: Arami Ullon; Writer: Arami Ullon)
Considers the material of Mateo Sobode Chiqueno, who has been using an old tape recorder to capture stories, songs, and testimonies of his ancestral culture since the Seventies.
Three Minutes: A Lengthening
(Country: Netherlands, UK; Year: 2021; Director: Bianca Stigter; Stars: Helena Bonham Carter)
The three minutes of footage explored in this film are the only moving images left of the Jewish inhabitants of Nasielsk before the Holocaust.