Eye For Film >> Movies >> Invisible Demons (2021) Film Review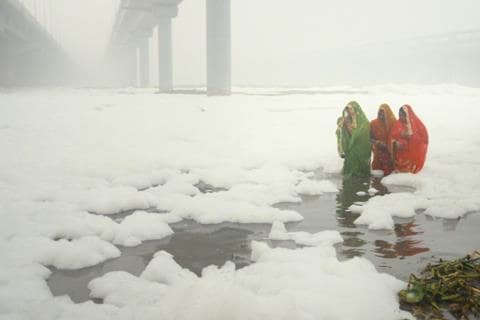 Progress is judged on industrialisation, comments one factory owner in Invisible Demons. Perhaps trying to throw his interviewer - director Rahul Jain - some optimism, he suggests nature will correct it, the implication being that the impact of pollution will eventually be rendered insignificant.
It's safe to say that Jain doesn't agree. In this follow-up to 2017's Machines, he turns his attention to Delhi, a city regularly ranked as one of the world's most polluted, and one struggling to meet the challenges of climate change. Punctuated by reports from Indian broadcaster NDTV that are utilised for ominous ambience as well as their factual portent, these transmissions ground the film in a sobering reality, but the film's most powerful moments are almost entirely visual.
Invincible Demons is a film that understands the aesthetic appeal of environmental abuse, but it doesn't titillate with images of eco-collapse or sensationalise interviews with long-suffering Delhi citizens. Steering clear of Big Issue interrogation, Jain presents instead a kind of floating survey of the city's environmental malaise. The film's points are made without dogma.
There is little need for force – the imagery communicates a quiet rage: a boatman explains how work is drying up as few people want to take a ride through the blackened waters of the Yamuna river. Women conducting a Hindu ceremony in its waters are surrounded by so much foamy scum that it resembles an enormous bubble bath. Scenes of fumigators spraying into streets of unmasked residents conjure deep dread as you fear for their lungs. A distant shot of a man working alone on top of a mountainous landfill trash heap resembles post-apocalyptic sci-fi. Routinely, we see traffic grind to a halt as the sky is clouded over with smog – the film's recurring motif.
As the film progresses, the staggering accumulation of demoralising sequences becomes enervating. But they are impossible to forget, striking a disturbing combination between Jain's seemingly plain, meditative patience as director and the viscerally painful sight of natural destruction, degradation, and negligence. It might have been easier to have made Invisible Demons in the style of a director like Nikolaus Geyrhalter, but perhaps to prevent it from playing only to art-doc audiences, Jain refuses artistic opacity and visual purity. His narration anchors the film in a quizzical disbelief and self-examination – he admits to being one of those privileged enough to rely on air conditioning to buffer him from rising heat levels.
As the film is about to end, he asks, "What would a world without development look like?". It might seem like the question has arrived too late in the film to mount a decent answer, but you soon realise Invisible Demons has already offered its verdict: not like this.
Reviewed on: 20 Jul 2021
Share this with others on...