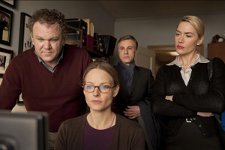 Festival opener Carnage
Now celebrating its 49th edition, New York Film Festival aims not to be a marketplace but rather a celebration of talent, bringing together the cream of the crop from other festivals around the globe.
The festival, which runs from September 30 to October 16, opened with Roman Polanski's Carnage. It closed with Alexander Payne's The Descendants.
In addition to the strands outlined below, the festival also celebrates Views From The Avant-Garde and is celebrating the centennial of the film production and distribution company Nikkatsu Corporation with a slate of 37 films under the banner Velvet Bullets And Steel Kisses. Films showing, include Cold Fish and Woman With Red Hair.
View Films by Strand:
View previous years coverage of the New York Film Festival festival:
New York Latest Reviews
New York Film Festival Features
New York Film Festival News