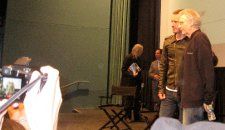 Fassbender and Cronenberg are snap happpy
At the New York Film Festival press conference, Michael Fassbender spoke about his meeting with A Dangerous Method director David Cronenberg: "We first met in Toronto - great directors are great manipulators." Over lunch, they talked about motor racing, not about the early days of psychoanalysis. A good Freudian strategy, I would say.
Cronenberg commented that he had to make big decisions about accents. There is only one recording of Freud and that is in English. Question: "Did he have a Yiddish accent? A Viennese one? Do we want Jung with a Swiss accent?" Cronenberg decided to "dispense of any regionality" and focus on their literary qualities.
For Keira Knightley, they wanted to keep the Russian accent of Sabina Spielrein. Christopher Hampton said that he originally wrote the screenplay for Julia Roberts' production company in the late Nineties. His stage play was named The Talking Cure (with Ralph Fiennes as Jung in the original London production), and after reading it, Cronenberg knew he had found the "fantastic structure" that would allow him to make the film he always wanted to make about the birth of psychoanalysis. When asked an autobiographical interest question from the audience, both Hampton and Cronenberg said, they have not been analyzed. After a pause, Cronenberg added: "Freud is an old Jew, and I am heading that way myself."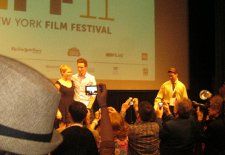 If you want Marilyn Monroe and Laurence Olivier to get along, give them a toy. Michelle Williams said that she and Kenneth Brannagh were both "married to their computers, trying to capture somebody who was", for their portrayals in My Week with Marilyn.
As Michelle Williams has been saying, she had to capture "three Marilyns, the private, the public, and the Prince And Showgirl one." Her stock answer to almost any question about the star is that she tried to find the real Marilyn underneath the icon. Actor Eddie Redmayne enlightened us that he attended Eton College, just like Colin Clark, the character he plays in My Week With Marilyn, who is also the biographer of the memoir the movie is based on.
When a character is supposed to be very religious, make them act and dress like that in real life long before filming. Director Asghar Farhadi explained his work with the actress Sareh Bayat, who plays the maid Razieh, and isn't religious at all: "I told the actress to say her prayers like a religious person. It was very difficult for her not to use her car… After the exercise, she had turned into a religious person" to play her role.
Farhadi, who also wrote the screenplay for A Separation, sees his film as a detective story with the audience as the investigators. I spoke to him about the many lies that become uncovered in this family drama. Almost a structuring principle, all of the characters want to keep something hidden from each other, and like clock work, one by one, all the secrets are exposed, not only to us but to the people in the story they want to hide it from the most. "You cannot really call it lying", he responded to me, "hiding the facts, perhaps. We understand why they are lying, we understand that they are suffering, they are not happy, and judgement becomes very difficult."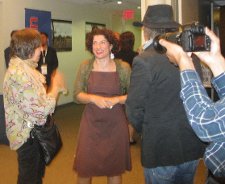 Before shooting, director Julia Loktev decided to test the chemistry between the playful central couple who go on a hiking trip through the Caucasus mountains in The Loneliest Planet. She sent Gael García Bernal and Hani Furstenberg on a treasure hunt through Madrid and gave them index cards to "find a green drink" or "something big and pink and fluffy" to see how well they could partner. The director and her co-stars shared a tent together during the filming to minimize the gear taken on the trek.
Share this with others on...