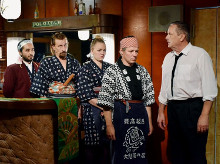 The Other Side Of Hope
The New York Film Festival celebrated its 55th year in 2017. The festival opened on September 28 with Richard Linklater's Last Flag Flying and closed on October 15 with Woody Allen's Wonder Wheel. This year's centrepiece gala was Wonderstruck, directed by Todd Haynes.
The retrospective programme this year paid tribute to the films of Robert Mitchum, including The Night Of The Hunter. Titles are still being announced, check back for updates.
View Films by Strand:
View previous years coverage of the New York Film Festival festival:
New York Latest Reviews
New York Film Festival Features
New York Film Festival News